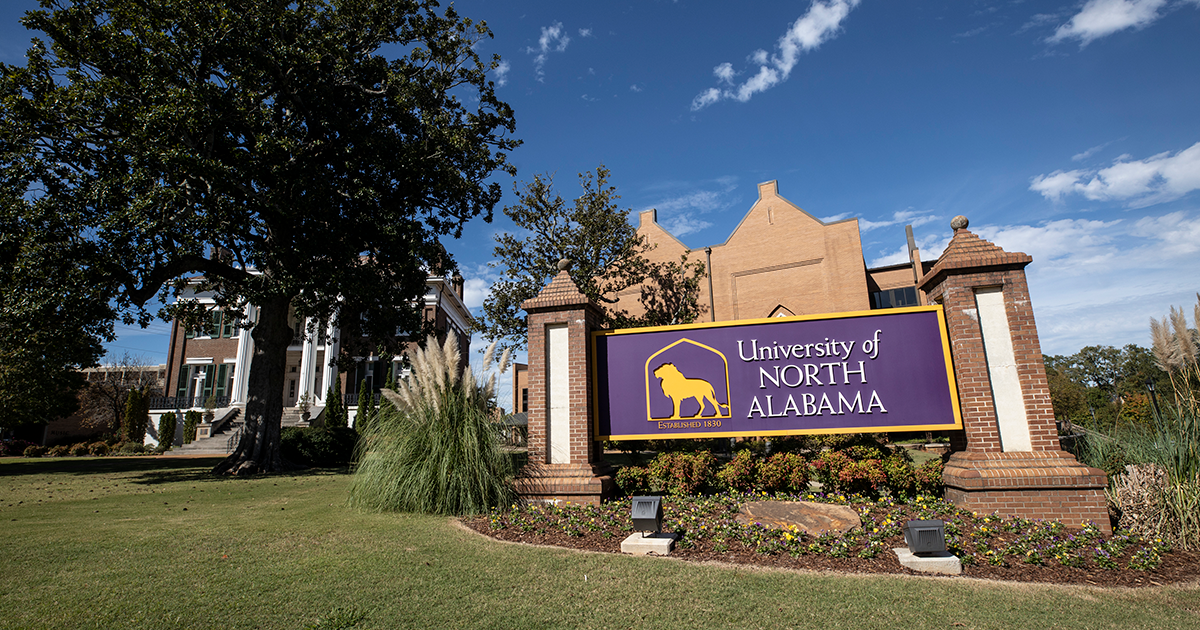 Weekend of Women Promises to WOW
Feb. 11, 2022
Michelle R. Eubanks , UNA, at meubanks@una.edu, 256.765.4392
FLORENCE, AL – Preparations at the University of North Alabama are ramping up for the Weekend of Women, the signature event during the ongoing Year of the UNA Woman celebrating 150 years of admitting women to the institution.
"Throughout the past several months, we have integrated the theme in a number of ways, from the updated UNA logo featuring Una, our beloved lioness, to other campus-based events during Homecoming and commencement," said Dr. Jeffrey Bibbee, co-chair of the Year of the UNA Woman Task Force. "The Weekend of Women, however, is a full showcase of the history of women on campus, where we are today, and where these trailblazers and tireless champions can take our institution in the future."
The Weekend of Women will feature key signature events, including:
Light the Fountain, set for Thursday, March 10 at 6:30 at Harrison Plaza. Ande Jones, UNA graduate and former UNA volleyball, tennis, and softball coach, will pull the switch to light the fountain. The rain date for this event is March 15.
UNA graduate and singer/songwriter Rachel Wammack in concert, with special guests, Friday, March 11, at 7 p.m. at Norton Auditorium. Tickets for the show can be found here.
School of the Arts Showcase from 5:30-7 p.m. at UNA on Sixth in downtown Tuscumbia. Tickets for the showcase can be purchased here.
"I am stoked to perform at the Year of the UNA Woman because I am proud to be a woman," said Wammack. "My alma mater is made up of smart, kind women who do not give up or give in, despite adversity. Women have shaped my life and my art in a dynamic way, and it's ideal for me to get to use my voice to honor them and lift them up. I might even cover one of my favorite female artists."
Wammack graduated in 2016 with a Bachelor's degree in English. She moved to Nashville in order make real her goals of songwriting and recording, and she has met with a degree of fame in the process, something that has come as no surprise to one of Wammack's instructors at UNA.
"I knew the first time I heard Rachel perform that she was something special and would end up with a record deal," said Janna Malone, an instructor in the Department of Entertainment Industry. "She was in my Survey of the Music Industry class and was always eager to learn about all aspects of the music business. That desire to learn, combined with her talent, is what propels artists forward in this industry, so it's no surprise she is finding success."
In addition to the concert, the Weekend of Women will feature a School of the Arts Showcase, an event that will include art and design from many of the programs within the School, from visual art and design to cinematic arts and theatre.
"The School of the Arts is delighted to partner in the Year of the UNA Woman sesquicentennial celebration," said Dr. Meghan Merciers, Executive Director of the School of the Arts and Associate Professor of Music. "The showcase is a wonderful way for us to highlight our current students and faculty. It's made doubly special by the location – UNA on Sixth in Tuscumbia – which is a nod to UNA's founding on LaGrange Mountain in Colbert County."
Tickets for the Rachel Wammack concert as well as the School of the Arts Showcase are limited and available now. More details at www.una.edu/unawoman.
About The University of North Alabama
The University of North Alabama is an accredited, comprehensive regional state university offering undergraduate, graduate, and doctoral degree programs through the colleges of Arts, Sciences, and Engineering; Business and Technology; Education and Human Sciences; and the Anderson College of Nursing and Health Professions. Occupying a 130-acre campus in a residential section of Florence, Alabama, UNA is located within a four-city area that also includes Muscle Shoals, Sheffield, and Tuscumbia. UNA Athletics, a renowned collegiate athletics program with seven (7) Division II National Championships, is now a proud member of the NCAA Division I's ASUN and Big South conferences. The University of North Alabama is an equal opportunity institution and does not discriminate in the admission policy on the basis of race, color, sex, religion, disability, age, or national origin. For more: www.una.edu and www.una.edu/unaworks/.
About The Year of the UNA Woman
In 1872, the State Normal School at Florence, now the University of North Alabama, opened its doors to women – making Alabama's oldest four-year university the first state-supported coeducational institution south of the Ohio River and the oldest co-educational teacher's college in the USA. One hundred and fifty years later, we proudly observe this sesquicentennial. We welcome to our historic campus courageous women who are trailblazers, tireless advocates, unparalleled champions, and the next generation of leaders who though inspirational stories, events, and celebrations, will make this milestone in our campus history and help us chart a path of progressive innovation for the next 150 years.