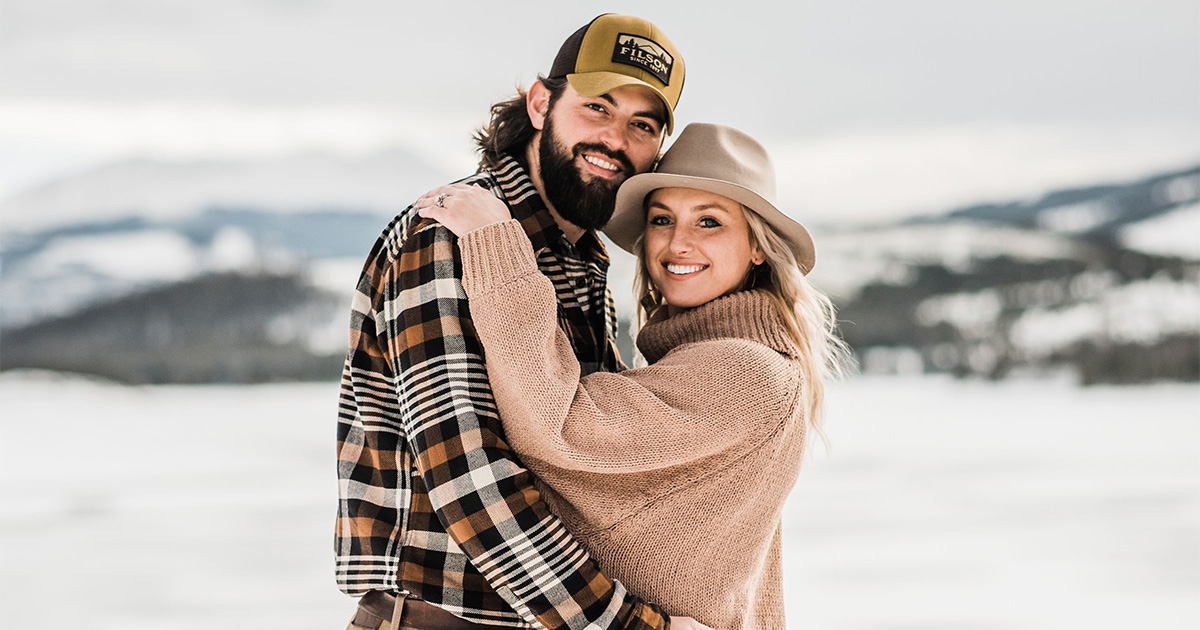 A UNA Meet-Cute
Feb. 14, 2023
Caroline Conkle , at cconkle@una.edu
The weather may be cold, but many on The University of North Alabama campus are excited to have someone to snuggle up close to this Valentine's Day. Often, students meet their significant others in college, but none have done it quite like Brett and Dana Jackson. 
Both Brett and Dana are family practice-focused nurse practitioners who own a private practice together and have since 2018. Located in Tullahoma, Tennessee, the Jacksons own TLC Family Health and Hormone, which focuses on making their patients "feel and stay healthy" by using an integrative, modern, and functional approach to medicine.
"We only dreamed we would do this one day, maybe not within the first five years we practiced, but it has turned out really good. We have 200 people on a waitlist now," said Dana. 
The Jacksons met on UNA's campus; both were student-athletes, and both were in the Anderson College of Nursing and Health Professions. They each played basketball and kept running into each other in the gym until they finally introduced themselves.
"My maiden name was Jackson, and his last name was, obviously, Jackson," Dana said. "He was very nice looking; he is 6'8 and very easy to lay eyes on. He stands out wherever we go. But I thought, 'Oh, that's weird. I can't date someone with my last name.' Now, we have been married for nine years and have two children." 
Back when the couple were students at UNA, both the men's and women's basketball teams would travel to games together because their schedules would be the same. Seeing each other all the time really drew them to each other, and they ended up dating for a while before breaking up, and then reconnecting while in nursing school. 
"My roommate said 'I have never seen anyone kiss each other goodbye when they break up. I felt like y'all were destined to get back together'," Dana said. 
After graduation, both worked as Registered Nurses for a couple of years. Brett and Dana got married in 2014, and they decided to pursue their master's degrees. Dana began her program in 2015, just one week after giving birth to their first child. When they were graduating from their respective master's programs, they were having their second child. 
"We went back for our masters because nursing itself is more intervention and caring; whereas, having a masters allows you to diagnose and treat. I really like that aspect," said Brett.
Dana ended up working for about 6-8 months after getting her masters under someone else, but she said she ultimately knew that she and Brett wanted to own their own family practice. This would give them the flexibility they craved with two young children and allow them to run a practice the way that they wanted to. 
"Our goal initially was to work for ourselves and have our own practice, and it just shows that if you have a goal and you work for it, it works out," Brett said. "It is everything we have ever dreamed of, especially because we have two young kids, and it helps us because we are a big sports family." 
The couple have now been working together every day since 2018. They drive to work together, eat lunch together, and go home together – every day. For some, this might be too much, but for the Jacksons, it is just right. As much time that they spend together, they also get time apart. 
"Brett's biggest thing is that he hunts," Dana said. "During the wintertime, he will take two or three trips to duck hunt, and by the time he comes back, I am super ready for him to be back." 
Dana coaches youth basketball within their community and also does long-distance running. Brett and Dana also own more than 100 acres of land that Brett and his young son work on during the week. 
"It is kind of weird when we aren't together. A lot of folks aren't like that, but that's what works for us. We have become really good teammates,"  said Brett. 
As they learned on the court and the classroom, teamwork is a vital part of keeping their marriage lively and fun. 
"I feel like we really complement each other. I think the opposite attraction is very true. We know that marriage is not super easy, but you just need to find someone who you can be a partner with, be a team with," said Dana. "I would recommend to anyone in college that you have to be a team because where one of you is down and out, the other one will have to pick up the pieces."
About The University of North Alabama
The University of North Alabama is an accredited, comprehensive regional state university offering credential, certificate, baccalaureate, master's, and doctoral programs in the colleges of Arts, Sciences, and Engineering; Business and Technology; Education and Human Sciences; and the Anderson College of Nursing and Health Professions. The first-choice University for more than 10,000 on-campus and online students, UNA is on a bucolic campus in Florence, Alabama, part of the historic and vibrant Shoals region. Lions Athletics, a renowned collegiate athletics program with seven (7) Division II National Championships, is now a proud member of the NCAA Division I's ASUN Conference. The University of North Alabama is an equal opportunity institution and does not discriminate in the admission policy on the basis of race, color, sex, religion, disability, age, or national origin. For more: www.una.edu and www.una.edu/unaworks/