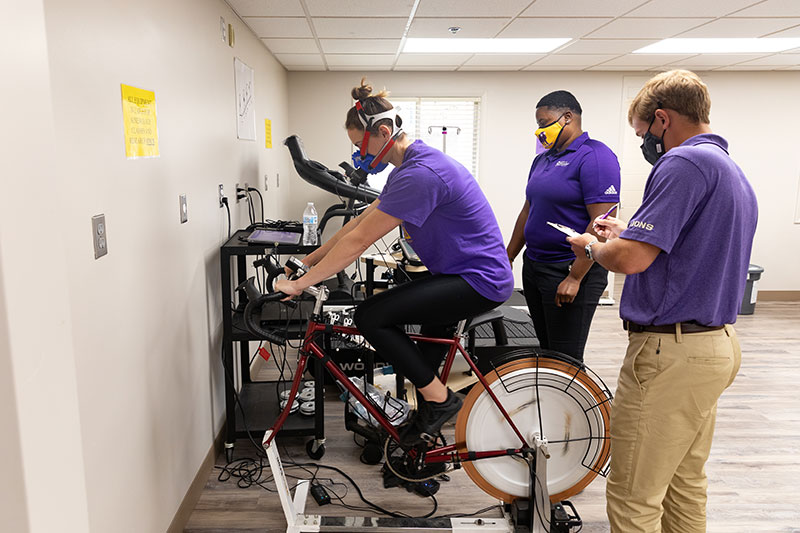 Human Performance Lab Opens as Part of UNA's First Phd Program
Oct. 07, 2021
Ellen McDonald , at media@una.edu
FLORENCE, AL – With the launch of the Ph.D. program in Exercise Science and Health Promotion this fall in the College of Education and Human Sciences, the University of North Alabama has also unveiled a Human Performance Lab.
"Due to the quality of the faculty, innovative curriculum, teaching-centeredness, and emphasis on applied research, this program is the ideal 'first Ph.D.' in UNA's history," said. Dr. Ross Alexander, Provost and Executive Vice President for Academic Affairs. "Our talented doctoral students will be teaching, learning, and conducting innovative research in a best-in-class Human Performance Lab facility."
Exercise Science and Health Promotion are highly interactive professions. Professionals work directly with individuals and group. As such, while enrolled in the program, students will be able to use the Human Performance Lab to gain the experience they will need to work in the field.
The intent of the lab is to provide assessment, evaluations, and advisement, and students will be better equipped to enhance fitness and exercise performance. They will also be able to assess safety measures in work situations.
"The College of Education and Human Sciences at UNA has a rich history of preparing scholars to be effective teachers in their disciplines," said Dr. Katie Kinney, COEHS Dean. "...therefore, it is fitting that the University's first Ph.D. program places such a strong emphasis on preparing future faculty to be strong teacher-scholars. We can be confident that UNA's impact will be taken to a new level through the high-quality teaching, scholarship, and service of the students pursuing the Ph.D. in Exercise Science and Health Promotion."
The program got its start in 2018, when faculty at the time began laying the ground work.
"It is certainly exciting to see that (commitment of faculty to) come together in what we know will be a premier Ph.D. program in our region," said Dr. Jean Ann Helm Allen, Kinesiology Department Chair. "Our faculty members are dedicated to teaching and mentoring our doctoral students, so those students become great ambassadors for our program and university."
The faculty is devoted to its students' success, and the program and lab would not have been possible without the support of university administration.
"The Fall 2021 launch...magnifies the prestige surrounding the existing rich history of exceptional academics at UNA," said Dr. Matt Green, Associate Dean of the COEHS. "The dedication and commitment of the faculty, coupled with the outstanding support of administration, have created a paradigm to move UNA to its highest level ever academically."
The launch of the Ph.D. program will expand UNA's profile in the region and enhance enrollment as students express interest in the Exercise Science and Kinesiology program.
"As an alumnus of the UNA exercise science program, it is incredibly fulfilling to see how it has grown and now to be part of that growth through the addition of the Ph.D. program," said Dr. Laura Killen, Associate Professor of Exercise Science.
There are eight students enrolled in the program in Fall 2021, including those from Alabama; Florida; Georgia; Michigan; Mississippi; Nassau, the Bahamas; Texas; and Washington.
About the College of Education and Human Sciences
The College of Education and Human Sciences offers a variety of programs, including Counselor Education, Early Childhood Education, Elementary Education, Instructional Leadership, Secondary Education, Special Education, Teacher Education, Teacher Leadership, Exercise Science, Sport and Recreation Management, and more.
About the Ph.D. in Exercise Science and Health Promotion
The Ph.D. in Exercise Science and Health Promotion is a 60-hour program with in-depth coursework, including engaging, hands-on experiences. Students collaborate with professors in ongoing faculty and faculty-student-driven research and scholarship. Additionally, doctoral students teach a variety of undergraduate courses as part of their professional preparation.