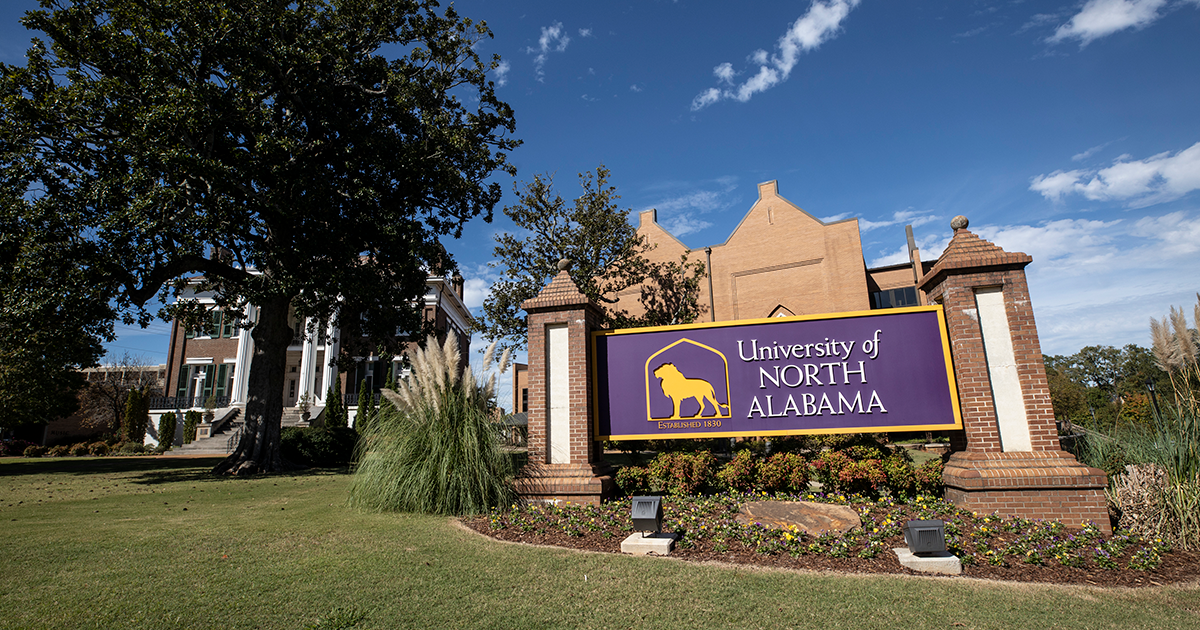 Una Alumna Recognized As National Acte New Teacher Of The Year
Dec. 12, 2019
Michelle Eubanks, UNA, at media@una.edu, 256.765.4392 or 256.606.2033
FLORENCE, AL - Beth Brumley, a 2001 graduate of the University of North Alabama, has been named the 2020 National ACTE New Teacher of the Year. The Association for Career and Technical Education recognizes teachers who have made significant contributions toward innovative and unique career and technical education programs and shown a professional commitment early in their careers.
Brumley serves as the RN, CNA Program Coordinator and Primary Health Science Instructor at the Colbert County School System in Tuscumbia. She was one of five finalists for the 2020 national title.
"Being awarded the National ACTE New Career Tech Teacher of the Year has been more than an honor for me," she said. "This honor also goes to my students that sit in my classroom and have sat in my classroom in the Colbert County School System as well. The award represents all of the hard work and extra time that we as educators put into our students. As an RN who left the full-time nursing industry, I look around at my many educator peers and think, 'Wow! How am I the one who deserves this award?' But I am so thankful that the ACTE recognizes all of the innovative thought that has put into the lesson plans that we have for our programs in career tech each day."
Brumley was hired just five years ago, two days before the start of the school year. From the moment she was hired, she began building the program from scratch that included renovating the home economics department at Colbert Heights High School from a fully equipped food preparation area to a complete simulation lab and classroom.
As part of the Colbert County System, Brumley works alongside Superintendent Dr. Gale Satchel, also a UNA alumna and member of the UNA Alumni Association Board.
"This recognition proves that one person can make a difference in the lives of our legacy," Dr. Satchel said. "Mrs. Brumley has gifted our students with a life-long skill that will have an impact on their lives and our Shoals community for years to come."
Brumley graduated from UNA's nursing program more than 18 years ago, and she said her experiences provided her the experiences she needed to work in the healthcare industry and transition into the classroom as an educator.
"Every day I use that experience, especially in my clinicals in nursing school, to show my students how to serve in the healthcare industry," she said. "Without the education and experience I received at UNA, I would be the nurse/educator I am today."
These days, Brumley has grown the program so much that there is a rigorous application process. Further, she has worked to involve the healthcare industry in the Shoals. Further, one hundred percent of the students in her classes passed the Nursing Assistant certification.
It's something about which UNA's College of Education and Human Sciences Dean Dr. Katie Kinney takes pride.
"The Educator Preparation Program at the University of North Alabama joins the Shoals region in celebrating the positive impact Beth Brumley has on learners in our community," said Dr. Kinney. "Because of her dedication to her students and the profession, she is the epitome of an elite educator and the kind of game-changer we strive to prepare at UNA."
About The University of North Alabama
The University of North Alabama is an accredited, comprehensive regional state university offering undergraduate and graduate degree programs through the colleges of Arts and Sciences, Business, Education and Human Sciences, and the Anderson College of Nursing and Health Professions. Occupying a 130-acre campus in a residential section of Florence, Alabama, UNA is located within a four-city area that also includes Muscle Shoals, Sheffield, and Tuscumbia. UNA Athletics, a renowned collegiate athletics program with seven (7) Division II National Championships, is now a proud member of the NCAA Division I's ASUN Big South Conference. The University of North Alabama is an equal opportunity institution and does not discriminate in the admission policy on the basis of race, color, sex, religion, disability, age, or national origin. For more: www.una.edu and www.una.edu/unaworks/
About the ACTE
The Association for Career and Technical Education (ACTE) is the nation's largest not-for-profit association committed to the advancement of education that prepares youth and adults for successful careers. ACTE represents the community of CTE professionals, including educators, administrators, researchers, school counselors, guidance and career development professionals, and others at all levels of education. ACTE is committed to excellence in providing advocacy, public awareness, and access to resources, professional development, and leadership opportunities.