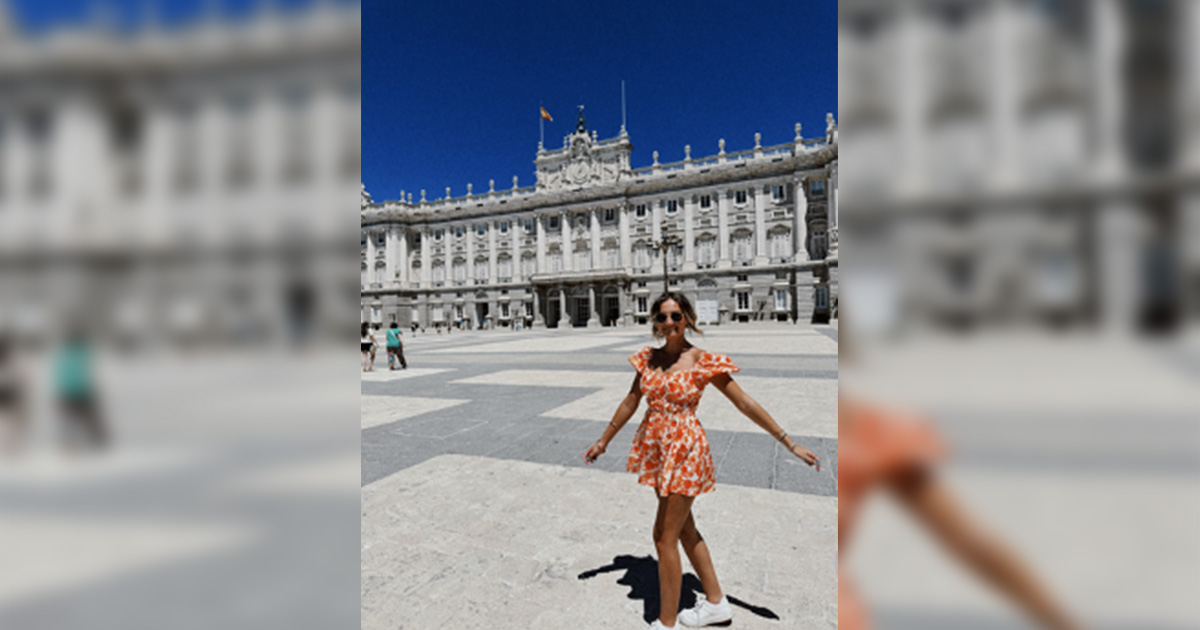 Language Proves No Barrier for Student
Aug. 25, 2023
Isabella Desio-Dorian , at idesiodorian@una.edu
Seventh in a Series 
Studying abroad was always something I wanted to do in college. It is a once-in-a-lifetime experience to be able to immerse yourself into a different culture the way studying abroad allows you to do. 
When I came to the University of North Alabama, studying in Spain, in particular, was not something I had planned on doing. I am majoring in Biology and minoring in Psychology, and I hope to enroll into a physician's assistant program when I graduate in May of 2025. Spain simply wasn't on my radar. However, as an employee at the North Alabama Shoals Hospital and saw firsthand the number of Spanish-speaking patients, my interest piqued. 
Growing up in Olive Branch, Miss., I was not exposed to any new cultures, so I had hoped to gain insight into a culture I was vastly unfamiliar with and begin learning the language many of my patients use. In retrospect, I gained that and more. 
Going into this trip, I did not know what to expect. I was only beginning to learn the language and was nervous that I was not going to succeed or that it would be too far out of my comfort zone. I was worried about living with a host family and how their opinions of me might be affected based on my lack of knowledge surrounding the culture and language. Now, I can confidently say my worries were unfounded. 
Living with a host family was a highlight of this experience, and it allowed me to see what day-to-day living means in Spain. I was able to see the cultural differences in a home setting to contrast what I am comfortable with in the United States. The home-cooked meals, the routine, and the lack of air conditioning were just the beginning of things I had to become used to. There was a language barrier, but, as time went on, my host mom and I were able to communicate despite it. My host mom played a great deal into my newfound appreciation for the Spanish culture, and I am incredibly grateful that she welcomed me into her home with loving arms. 
Living in Salamanca made me realize what a treasure Spain is. I fell in love with the sights, whether that be the plaza at night or the incredible views from atop the beautiful architecture. Outside of Salamanca, I was able to see many different cities on our weekend excursions. I enjoyed being able to see different cities throughout the country, my favorite of which was Bilbao. 
Bilbao truly had it all. From a geographical aspect, this city has everything I could want. The beaches and mountains were something I had previously only dreamed of seeing. I was mesmerized by the liveliness of the culture and the uniqueness of the art and buildings. 
While the sights were a highlight of the experience for me, another major aspect of this study-abroad experience was the schooling. Admittedly, I was overwhelmed by being taught in Spanish, along with the workload of the University classes. Although, as the trip went on, I adjusted and was able to learn more than I previously deemed possible. 
Looking back on this trip, the word that summarizes it all is "grateful." I am overwhelmed by gratitude that I was able to experience Spain through the lens I was given. It pushed me out of my comfort zone in a way that has left me in awe of what I was able to accomplish and see while being there. I am excited to continue to pursue the feeling as I continue my language journey, and I hope that I will be back one day to experience the country as a fluent Spanish speaker as well as becoming a source of comfort for my Spanish-speaking patients.
About The University of North Alabama
The University of North Alabama is an accredited, comprehensive regional state university offering credential, certificate, baccalaureate, master's, and doctoral programs in the colleges of Arts, Sciences, and Engineering; Business and Technology; Education and Human Sciences; and the Anderson College of Nursing and Health Professions. The first-choice University for more than 10,000 on-campus and online students, UNA is on a bucolic campus in Florence, Alabama, part of the historic and vibrant Shoals region. Lions Athletics, a renowned collegiate athletics program with seven (7) Division II National Championships, is now a proud member of the NCAA Division I's ASUN Conference. The University of North Alabama is an equal opportunity institution and does not discriminate in the admission policy on the basis of race, color, sex, religion, disability, age, or national origin. For more: www.una.edu and www.una.edu/unaworks/