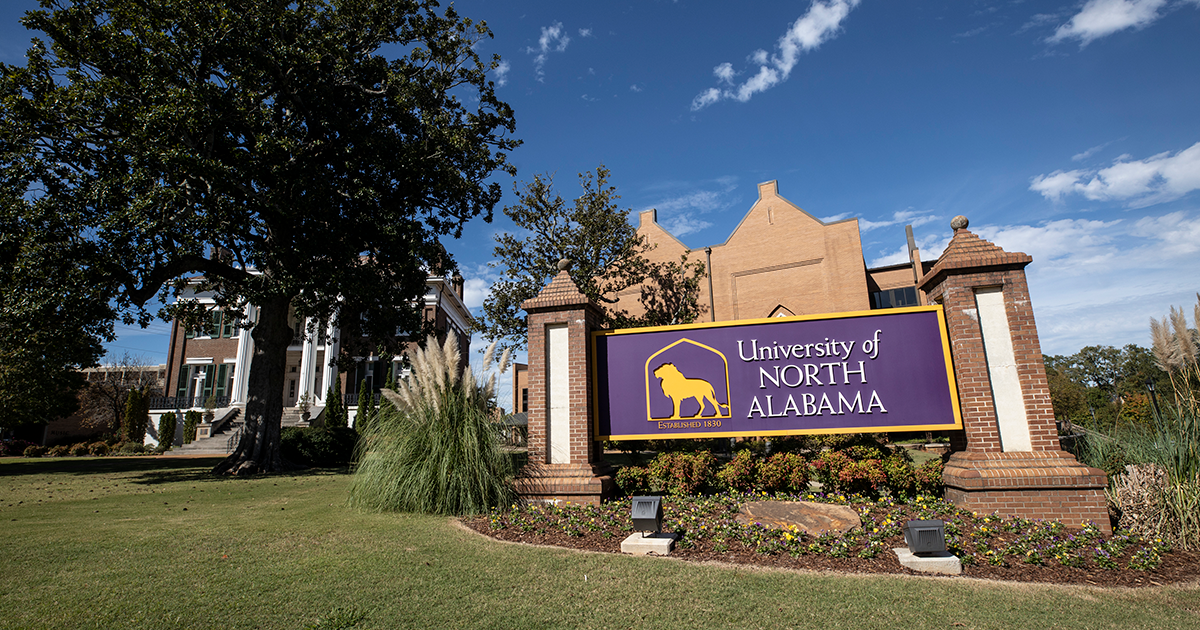 Patterson Looks To Continue Enrollment Increases As Una's New Avp For Enrollment Management
Jul. 19, 2016
Michelle Eubanks, UNA, at media@una.edu, 256.765.4392 or 256.606.2033
Bryan Rachal, University Communications
FLORENCE, Ala. - Once a coach, always a coach! That's a statement Ron Patterson agrees with concerning his new role as the associate vice president for Enrollment Management at the University of North Alabama. According to Patterson, a coach is knowledgeable and has the ability to lead diverse people through teaching, training and making decisions to accomplish a common goal.
Patterson began his job July 15 and said that his road to higher education was a little different from most.
"I started out as a men's basketball coach," said Patterson. "I met my wife, decided to get out of coaching and began my career as an admissions counselor with Christian Brothers University in Memphis," he said.
Patterson said the position with Christian Brothers helped him recognize the importance of administrators and their ability to make a post-secondary education experience more enjoyable for students, faculty and staff.
"I have over a decade and a half of experience in higher education, studying and applying knowledge to obtain an EdS (Education Specialist) in administration. In addition, I have worked with every position and aspect of enrollment management. That's what created this wonderful opportunity to join UNA," he said.
Following his time at Christian Brothers, Patterson spent time at the University of Tennessee Health Science Center, the University of Central Arkansas and then back to the institution where he obtained his masters, Marietta College. Patterson served as the vice president for Enrollment Management at Marietta for about a year and a half before leaving for UNA, a place close to home.
"Initially, a lot of what attracted me to this job was the possibility of coming home," Patterson said.
A native of Corinth, Mississippi, Patterson said he made multiple visits to the Shoals when he was younger and even had the opportunity to play basketball in Flowers Hall.
But coming home isn't the only reason the job was appealing, according to Patterson. Last year UNA saw record freshmen enrollment and an increase in overall enrollment, and if predictions are correct that trend should continue this year as well.
"I think it's a great time for the University of North Alabama in terms of increased enrollment," said Patterson. "My goal is to build upon that - not really change a lot, but rather come in and tweak a few things. You know, embrace the fact that we have great momentum and look for ways to partner with local and regional community colleges. I'd also like to find pockets of high schools where students are excited to travel and come here to spend four years of their lives to enhance their future," he said.
Patterson said his leadership abilities and the ability to galvanize a team will serve him well in this new role. As for benchmarks, he's designed a 90-day action plan.
"My goal through that plan is to meet with every executive council member individually, get to know them and how they're connected to enrollment management," Patterson said. "I'll also meet with the deans, and I really look forward to spending time getting to know my team, seeing what their needs are and developing a vision and goals for enrollment management," he said.
When not in the office, you might catch Patterson spending time with his wife and children, golfing and watching all sports.
"We're very excited to relocate to Florence, Alabama, but more importantly to join the UNA family. We're excited to have the community embrace us, but more importantly we're going to embrace the community and be very active and visible," Patterson said.
UNIVERSITY OF NORTH ALABAMA
The University of North Alabama is an accredited, comprehensive regional state university offering undergraduate and graduate degree programs through the colleges of Arts and Sciences, Business, Education and Human Sciences, and Nursing. Occupying a 130-acre campus in a residential section of Florence, Alabama, UNA is located within a four-city area that also includes Tuscumbia, Sheffield and Muscle Shoals. UNA also operates a renowned collegiate athletic program in NCAA Division II's Gulf South Conference. The University of North Alabama is an equal opportunity institution and does not discriminate in the admission policy on the basis of race, color, sex, religion, disability, age or national origin.