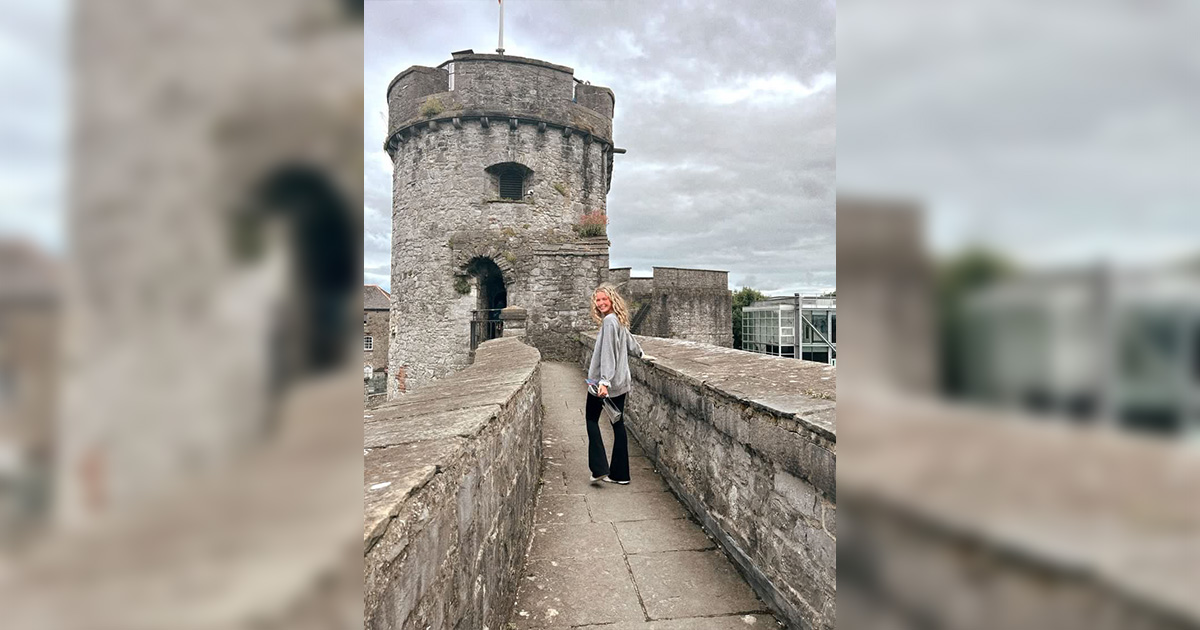 Finding adventure in Ireland
Aug. 17, 2023
Kendal Crowell , at kcrowell2@una.edu
Kendal Crowell, of Hatton, is a biology major at the University of North Alabama. In addition to the work she has been a part of through the CODE DNA class in cooperation with HudsonAlpha in Huntsville, Crowell, as a student in the Delores and Weldon Cole Honors College, is also taking advantage of UNA's numerous study abroad opportunities. Here she is in her own words, sharing about her experience: 
Study Abroad Ireland has been one of the most exciting adventures of my life so far! We hit a number of cities on this trip and have had so many amazing (and confusing!) experiences. 
We flew into Dublin, Ireland on June 13 after an overnight flight from Atlanta, and our feet hit the Irish ground running. We immediately checked into our hotel, freshened up, and started our sightseeing in Dublin. I loved learning about Irish culture and the country's rich history at stops along the way, including Trinity College, Dublin Castle, and the Book of Kells – these three being only a few of the many places we visited in the city. 
While staying in Dublin, a small group of us decided to wake up early and take a train to Northern Ireland, a country within the United Kingdom on the Ireland island, to take a bus tour out of Belfast. We visited some surreal sites, including a few Game of Thrones (my favorite television show) filming locations as well as a well-known Irish landmark, Giant's Causeway. 
The next stop on our list was Ireland's oldest city, Waterford. I have to say: Waterford was my favorite stop. I am much more comfortable in smaller town setting surrounded by locals, rather than busloads of tourists. Waterford was the breath of fresh, coastal air I was craving after five days in Dublin. 
On our first night in Waterford, we didn't have a lot of time left in the day, so some of use decided to go watch the Spider-Man: Across the Spider-Verse movie at the local theater. Student tickets were €9.50, which is so much cheaper than movie tickets in Florence – not to mention every movie seat was a recliner! 
The next day, we went to Bishop's Palace, the Medieval Museum, Christ Church Cathedral, and a walking tour of Waterford, all courtesy of UNA. The history behind the city and the traditions that still live there were remarkable to see, and I am so grateful I was able to experience them. The next day, we all decided to head to a beach the locals recommended to us for a relaxing day after the hustle and bustle of the past week. It was a beautiful beach on the shore of the Irish Sea, encased in hillsides and unlike anything I've ever seen. 
My friend, Josie, and I ended up renting wetsuits and surfboards and teaching ourselves how to surf that day! We followed up that victory with a stop at Dooly's, a shop recommended by locals, and ate the best fish and chips we had on the entire trip. 
After Waterford, we traveled to Limerick for two days and took a bus tour of the Cliffs of Moher, which I learned was a location for the Harry Potter films. I am a big Harry Potter fan, so that was amazing to see. 
Our next stop was to Galway, and we have had so much fun there. The city buzzed with markets and music and shopping. We visited an aquarium and had some great food! We also attended a Gaelic football game. UNA provided the tickets to this event for us, and I am so glad they did because I genuinely would not have bought my own tickets on the assumption, I would not have had any fun. And I ended up having an amazing time.
About The University of North Alabama
The University of North Alabama is an accredited, comprehensive regional state university offering credential, certificate, baccalaureate, master's, and doctoral programs in the colleges of Arts, Sciences, and Engineering; Business and Technology; Education and Human Sciences; and the Anderson College of Nursing and Health Professions. The first-choice University for more than 10,000 on-campus and online students, UNA is on a bucolic campus in Florence, Alabama, part of the historic and vibrant Shoals region. Lions Athletics, a renowned collegiate athletics program with seven (7) Division II National Championships, is now a proud member of the NCAA Division I's ASUN Conference. The University of North Alabama is an equal opportunity institution and does not discriminate in the admission policy on the basis of race, color, sex, religion, disability, age, or national origin. For more: www.una.edu and www.una.edu/unaworks/