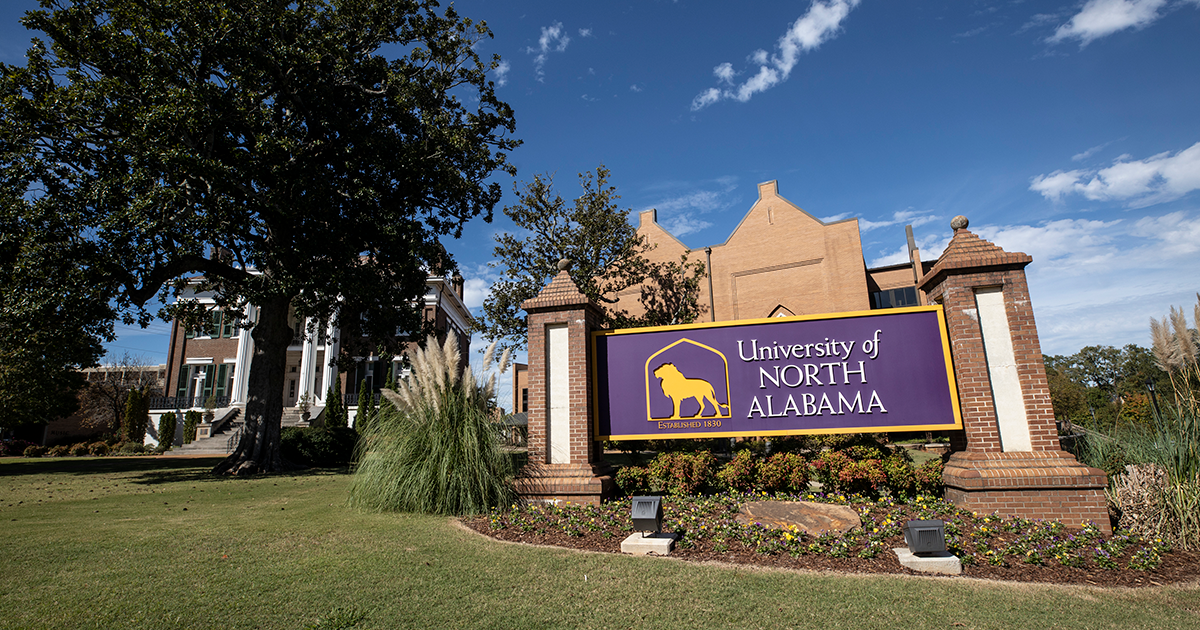 The UNA Band Presents "A Tribute to Edsel and Edd"
Jun. 04, 2021
Michelle Eubanks, UNA, at media@una.edu, 256.765.4392 or 256.606.2033
FLORENCE, AL - The University North Alabama Band will pay tribute to two legendary local musicians with a concert scheduled for 2 p.m. Sunday, June 20, in Norton Auditorium. Edsel Holden used his talents to raise money in support of local interests through his annual summer show, "Edsel Holden Presents." Dr. Edd Jones, UNA's long-time bandleader, was often Holden's partner on stage. "A Tribute to Edsel and Edd" brings the two together for an unforgettable afternoon of memories and music.
"The line-up of selections is one of our best yet," said Dr. Lloyd Jones, UNA's director of bands and Edd Jones' son. "Many were taken from Edsel's personal show notes, along with some of the musical gems he was known to perform. If you enjoy Broadway, gospel, big band swing, Dixieland, Motown, and more, you will love this concert."
The show will feature the Shoals Area Big Band, the UNA Studio Jazz Band, and special guest artist Jilla Webb. While Holden devised the concept and program, it was Jones who assembled the Edd Jones Orchestra, many from the Shoals Area Big Band, which was founded by their close friend and local physician, Dr. Lyman Mitchell. Original members of the Shoals Area Big Band will be performing, including Charlie Rose on trombone and Dr. Jimmy Simpson on alto sax.
"We've included a bit of everything on this afternoon of music. All the selections can be connected back to Edsel and Edd and their musical legacy," Jones said. "The first half will feature the UNA Studio Jazz Band and talented singers Janie Clasgens and Zach Cleghorn. We've also got a barbershop quartet we call the 'Treble Makers,' which will be featured on selections from The Music Man - a show Edsel starred in as Professor Harold Hill in a local production. Other first half selections include 'Laura,' 'You're Nobody 'Till Somebody Loves You,' 'At this Moment,' 'Slow Boat to China," and a swinging version of the Tennessee Ernie Ford Gospel hit, 'This Old House.' "
The second half will feature vocalist and performer Jilla Webb, who will perform perennial favorites, including "The Lady is a Tramp," "Since I Fell for You," and "Every Day I Have the
Blues." Also on the program is Aretha Franklin's "Natural Woman," which was a showstopper in 2019.
"When I performed on Edsel's show back in 2019, I was absolutely blown away with this man's energy, showbiz sense, and talent," Webb said. "And Edd's band was amazing - just wow! These men knew how to put on a show. They are so talented, and they do it all for others. It is an honor to be back on the show, paying tribute to these two men who gave so much to so many."
Holden and Jones have both passed away since their last performance together in the summer of 2019. The two collaborated for more than 40 years in order to raise money for a variety of local music-related interests, including the UNA Band program.
"From their days as two of the original members of the Shoals Area Big Band to these summer concerts, we estimate that they raised well over $200,000," Jones said. "We would like to raise these funds toward endowed scholarships in their names at UNA to ensure their names are always connected to the school and the band program. Edsel was a former member of the UNA Band, and Edd was the Director of Bands for 21 years. They've entertained us with quality music for years. We can ensure their involvement with student musicians in the future."
Tickets are $15 and are available online at www.una.edu/schoolofthearts/purchase-tickets.html, at the Kennedy-Douglass Center for the Arts, and at the UNA Band Room by calling 256-765- 4136. All military personnel are admitted for free.