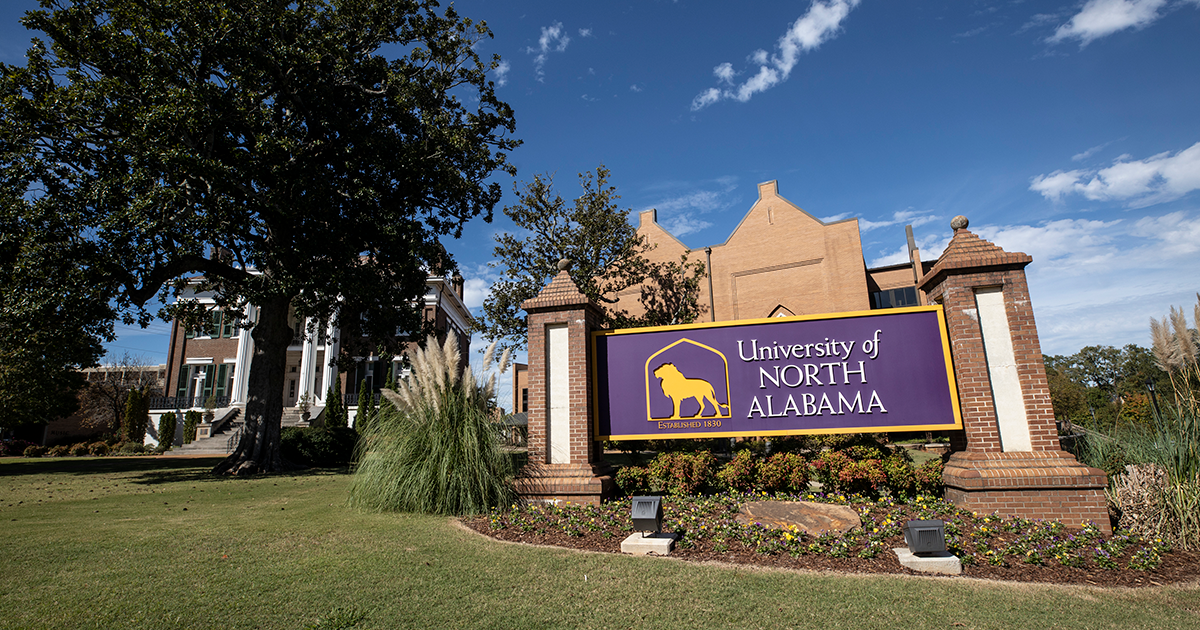 Sept. 11 Anniversary Inspires Some To Service
Sep. 10, 2021
Michelle Eubanks, UNA, at media@una.edu, 256.765.4392 or 256.606.2033
FLORENCE, AL - Anniversaries are often cause for remembrance and reflection. As the 20th anniversary of 9/11 approaches, there are those on the University of North Alabama campus who have chosen a life of military service as a direct result of the tragic events of that day.
"All anniversaries of the attack are important to remember," said Maj. Rashaun Warren, Military Science Department Chair and head of the UNA ROTC program. "On that day, it is important to remember that we all came together and were unified as one. On that day, we came together to represent what it is to be an American and to be a true melting pot for the sake of unity."
Very few of the ROTC cadets in the program remember 9/11; most, like Jessie Fountain, hadn't been born.
"It's a heavy holiday in my family because my mom was in the Army," she said. "My mom, like the rest of America, was scared things would start happening in other states."
While those early fears proved unfounded, there is no doubt of the effect the events of that day had on Americans.
ROTC Cadet Ashley Figueroa-Cifuentes was five years old on 9/11, having immigrated from Guatemala to America with her family when she was just three.
"I remember being in class, and the teacher turned on the television," she said, and the teacher "started crying after she turned it off. My mom and dad were both at work, and everything stopped that day. It affected our morale for the country. Being an immigrant, I want to be able to serve the country."
Unlike many of the ROTC cadets at UNA, Chris Porter has vivid memories of 9/11 and where he was when he learned of the terrorist attacks on the World Trade Center and the Pentagon.
"I was in the fourth grade. I got to use the photocopier that day, and it was on the television when I was using it," Porter said. "I thought it had to be a movie, so I didn't understand what was happening. But it wasn't a movie. It was the first time I had seen what evil looked like."
Porter recalled knowing then that this day would affect him for the rest of his life. And it did. When he came of age, he enlisted in the Marine Corps and served from 2012-2016. Today, after his time actively serving has ended, he's one of dozens who have returned to UNA to work toward a degree on a GI bill.
When on campus, Porter will spend time in the Guillot University Center in the Military and Veterans' Services offices on the second floor.
"I'm at UNA studying culinary arts after a friend of mine and I traveled to New Orleans," Porter said. "The Military and Veterans' Services offices are a place to go that's quiet. I can study, or I can visit with others who might come through."
According to Doug McClain, office coordinator, that's exactly how the space and its services were envisioned for use. McClain spends much of his time working with veterans like Porter and their dependents to ensure they understand how to apply for benefits and how to use them.
"We try to look out for their well-being by being here and making them feel a part of the university as best we can," he said. "The University is here for them just as it is for any other student."
McClain said many of the students are adult learners, having come to UNA after fulfilling their military service.
"They're kind of fish-out-of-water, and we provide a safe haven, so that, if they feel ostracized, they have a place to go to feel more comfortable," he said. "I want them to feel a part of the community and know what services are available for them."
Like so many others, McClain recalls exactly the events of 9/11. He was in close proximity to the Pentagon when the plane hit that structure. Sitting in a meeting led by a group of civilians, he recalled the moments immediately after the attack with clarity.
"We helped evacuate and get on buses leading us outside of the area," he said. "When I was finally able to get cell service, I called my wife to let her know that I was okay. As a teacher, she had no idea what had happened. I asked her to call my mom to let her know I was okay, and that I would try to stay in touch."
As the anniversary approaches, McClain said it felt surreal that it had been 20 years.
"Everything changed that day," he said.
About the ROTC
Army ROTC (Reserve Officers' Training Corps is one of the oldest and best leadership courses in the county and can be a part of a student's college curriculum. Army ROTC provides individuals with the tools, training, and experiences they need to become Officers in the U.S. Army.
About Military and Veterans Affairs
The purpose of the Military and Veteran Service Center at UNA is to assist veterans, active-duty military, guardsmen, reservists, and their family members in taking full advantage of the educational benefits available to them through the GI Bill, Federal Tuition Assistance, and other programs. We also strive to help students make the transition from active military duty to UNA.