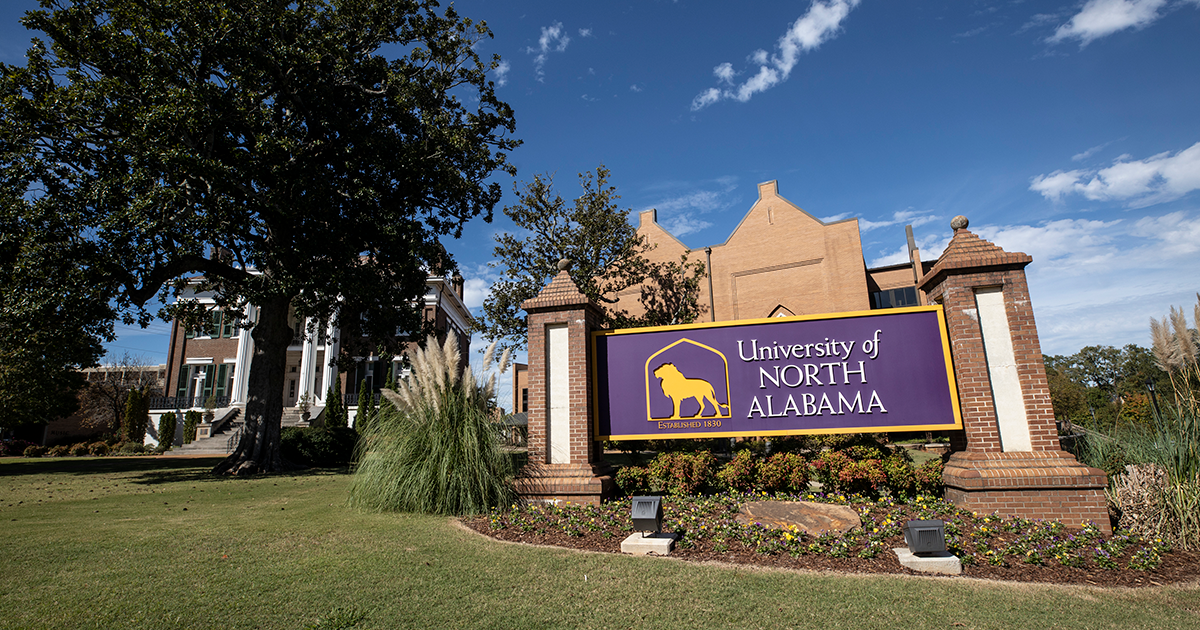 University Of North Alabama Professor To Speak At Uc Berkeley Communications Conference
Apr. 29, 2016
Michelle Eubanks, UNA, at media@una.edu, 256.765.4392 or 256.606.2033
Bryan Rachal,University Communications
FLORENCE, Ala. - The University of North Alabama will be in the forefront as UNA's own Dr. Patricia Sanders, assistant professor of Radio-TV-Interactive Media, Journalism, will be one of the featured speakers at the Berkeley Communications Conference, Wednesday, June 1.
Sanders will kick off the conference as the first keynote speaker, where she will discuss how to communicate effectively with diverse communities. This is Sanders first invite to the conference, which she said came about from a book chapter she wrote.
"I wrote a book chapter on utilizing technology to communicate across diverse audiences," Sanders said. "Turns out they read my work and they sent me an invitation to the speak to the group on that topic, so I'll be talking about the issue from a higher ed standpoint."
Sanders said that she speaks at numerous events, but she's very fortunate to be able to speak on this topic at one of the premiere universities in the world. Additionally, Sanders said the subject of diversity is a very hot topic across the country right now, and especially on campuses of higher education.
"You know they want to find ways to communicate not only with people within their own campus community," she said. "But also with potential students and students who are already there and alums, you know? So they're reaching out, trying to find the most efficient and best ways in which to communicate with the different constituencies that make up the university as a whole."
Sanders said one of the issues is that there are so many diverse groups and so many ways to reach them through the different media channels. So the question then becomes how do you communicate with these audiences to make them feel included?
"That could mean face-to-face, but also news letters that you send out, or recruiting materials. That's one of the things I'll be talking about; your literature that goes out to try and recruit people. Whether it's students, faculty or staff, what do they see when they open this literature? It's important that you try to reach them and that's something that most people don't think about."
Sanders said that while there are ample opportunities to send more direct messages to a certain group, you have to also be careful that you're not singling a group out too much. So if an entity is targeting a certain group with a message or trying to recruit that group, they have to also make them feel like they're going to be included in the larger group.
She said that could be a university event; it could be the literature used or the messages on a Facebook page or Twitter. "Even though we want diversity, we still want people to feel like they're a part of the majority as well. We're not trying to make people feel like they're extra special or different even though we're all different, but that they're important and valued."
Sanders said the whole idea is to make a campus feel connected, like a community. However, the reason universities are still talking about diversifying their campuses in 2016 is because it's still needed. "Groups of people who are in a minority have different experiences than people in the majority, because for the majority it is common and often taken for granted," she said.
Even when a campus does a good job, Sanders said there's always room for growth.
While a majority of the speakers at the conference have ties to UC Berkeley, Sanders will be representing UNA, an institution that may not be as well known as some of the others. Sanders, however, said she considers it a privilege to represent her alma mater.
"I'm an alumna of UNA, but more than anything this is my employer and I enjoy coming to work every day, "Sanders said. "I think UNA is a gem! We're getting to be known more and more through our marketing efforts, but when you come here you'll find this is a special place with a great education and top notch professors. So I think it reflects well on UNA that they would see someone's work from a small college like ours and invite them to this conference. I'm flattered," she said.
As for what she'll gain from the event, Sanders said she hopes she'll be able to shed some light and knowledge on the topic of diversity. As a black female, Sanders said she has a different perspective and feels she can share some of the ideas and ways to increase diversity that she knows firsthand will work.
"People know when they feel included and valued, and when they feel like they should be a part of wherever they are," said Sanders. "I know how it feels to make sure a place you're going to every single day makes you feel like you're a part of the team. I think that's important for workers, staff, students, administrators and faculty that when you go into your workplace you're wanted, needed and appreciated."
The Berkeley Communications conference will take place June 1, at the University of California at Berkeley. For more information: http://bc2.berkeley.edu/
For more information on the UNA Department of Communications: https://www.una.edu/communications/
UNIVERSITY OF NORTH ALABAMA
The University of North Alabama is an accredited, comprehensive regional state university offering undergraduate and graduate degree programs through the colleges of Arts and Sciences, Business, Education and Human Sciences, and Nursing. Occupying a 130-acre campus in a residential section of Florence, Alabama, UNA is located within a four-city area that also includes Tuscumbia, Sheffield and Muscle Shoals. UNA also operates a renowned collegiate athletic program in NCAA Division II's Gulf South Conference. The University of North Alabama is an equal opportunity institution and does not discriminate in the admission policy on the basis of race, color, sex, religion, disability, age or national origin.