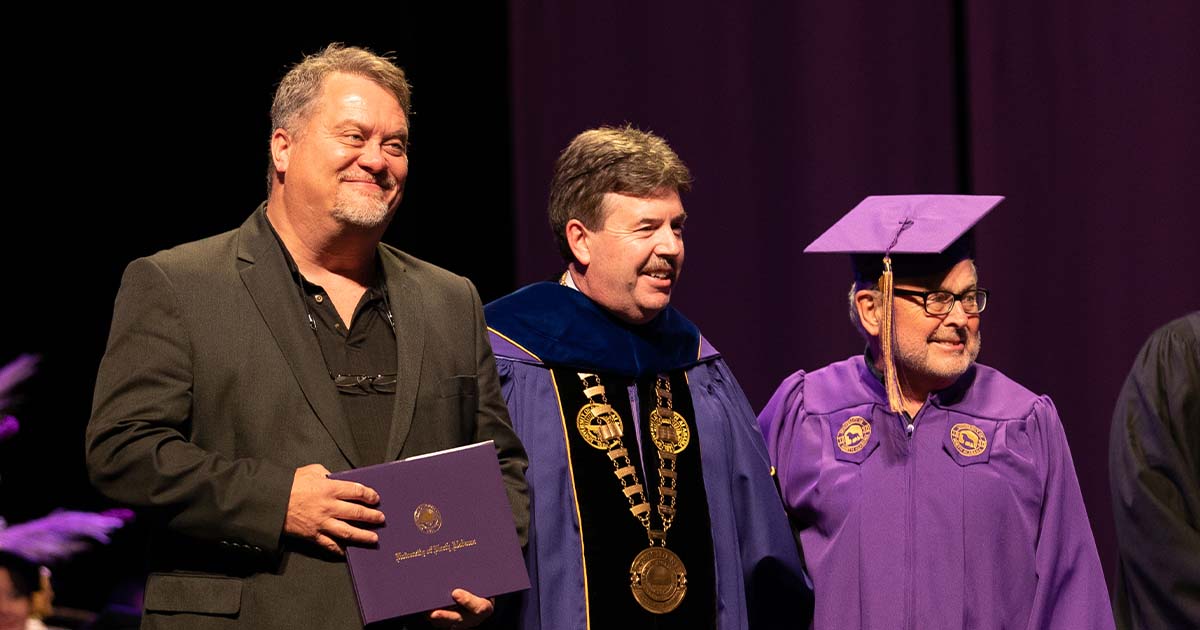 For Hood, There Is No Place Like Home
Jan. 20, 2022
Michelle R. Eubanks , UNA, at meubanks@una.edu, 256.765.4392
FLORENCE, AL – You've probably enjoyed David Hood's unfussy and groovy bass playing for years as part of your life's soundtrack, but you might not have known it was him who was driving the song.
That kicky line in Paul Simon's "Kodachrome?" Yep. That's Hood.
The simple but exacting feel in "Warm and Tender" by Percy Sledge? You guessed it. David Hood.
That distinct opener to The Staples Singers' "I'll Take You There?" None other than Hood himself.
In the history of modern music, and across the spectrum of genres, you're likely to find a common name when it comes to the bass, and that name is David Hood, the unassuming and delightfully down-to-earth musician who has called the Shoals home since he was born in Sheffield 78 years ago.
While his more than 50-year career in the music business has taken him around the globe, there was one thing he wished he had completed but just never got around to: his degree from the University of North Alabama, which he began in the early 1960s with friend and fellow musician and Swamper, Jimmy Johnson.
Recently, Hood and Johnson were honored with baccalaureate degrees from UNA as part of the Fall '21 commencement ceremonies. Hood was on hand for the event, and the degree for Johnson, who passed in 2019, was presented to his family.
"Honorary degrees are just that. They are an honor for the recipient, and it is an honor for me to bestow them on behalf of our Board of Trustees," said Dr. Ken Kitts, UNA's President. "I am a big fan of the music that originated in the Shoals, and much of that sound can be credited to the Swampers. David Hood has built his career on that sound and sharing the message of the Shoals through his music. Jimmy Johnson was no different. Both have influenced the way others think about the region we call home."
And it is very much home to Hood.
"This area has a rich history of world-class music going back to W.C. Handy and even before that," he said. "I believe it's in our DNA. The success and popularity of Arthur Alexander, Percy Sledge, and so many other great singers born in this area helped put us on the map as the hit recording capital of the world."
For Hood and others, particularly those in the Swampers (immortalized by that line in Lynyrd Skynyrd's hit "Sweet Home Alabama"), much of their time was spent as studio musicians, and Hood said that has been a point of pride as it allows them "to provide the best possible sound for artists to keep this tradition going."
As such, his career, spent in studios and among many talented musicians, is like a patchwork quilt of memories, stitched together by the sound he creates from his beloved bass. As such, it's hard to pinpoint a single memory that stands out from the many he has collected throughout his career.
"Interestingly, studio musicians rarely know what they are going to do when they walk in," Hood said. "It's a fun and gratifying thing to work with different singers, musicians, and rhythm sections. We all have the same goal, and that is to cut a great record for the artist we are supporting."
Still, he has toured. Back in the 1970s, it was with Traffic, the band fronted by Steve Winwood and known for its ad-libbed songs that defied traditional song length, ebbing and flowing into 10 minutes or more. It's easy to get lost in the groove "The Low Spark of High Heeled Boys." Years later, when Hood was in his 70s, he found himself on tour again, this time with Scottishbased band, The Waterboys.
"I was 72 when I went on the road with them," he said. "In the course of 18 months, we did 116 shows in 11 countries on four continents. While I love seeing the world, the studio sessions are what feed my soul, and I prefer to be home with my wife and my dogs."
Sensing a theme here?
Because of his commitment to his home and the sound that nurtured him and other musicians, Hood said he has made it a point to help keep that momentum going "in the current generation of hit-making artists and producers, including Jason Isbell, John Paul White, The Drive-By Truckers, Brittany Howard, the Secret Sisters, the Pine Hill Haints, and many others."
Having had famed producers Rick Hall and Jerry Wexler among his mentors, Hood said he feels a moral obligation to encourage the next generation.
"That's how we sustain this dream," he said.
Because it is a dream that very much alive in 2022 thanks to the excitement around the Muscle Shoals music industry and the attention coming from the Shoals' neighbor to the north, Nashville, as well as in Huntsville, where some exciting things are taking place with the construction of the Orion Amphitheater.
"Musicians and producers are drawn here because of the exceptional talent pool, the rich quality of life and the cost of living," Hood said. "Why would you drive for 45 minutes in traffic to get to a session when you can drive 10 minutes to a local recording studio and get the same caliber of product?"
Among Hood's partners in this dream is Kevin Jackson, the Shoals EDA Executive Director. Film and music are key components of the economic engines that continue to drive the area forward.
"The music scene in the Shoals has a hit pedigree," he said. "The goal with our program is to help our current music scene get to the next level and on par with the heyday of Shoals hits. We have some great studios and very talented producers as well as many local connections in the industry. We are hopeful we can be a counterculture to Nashville and, once again, make our own noise in the industry."
If Hood and others have anything to do with it, we are well on our way.
John Paul White, Grammy-award Winner and Visiting Artist of Practice at UNA, said the foundation Hood and the Swampers laid in the Shoals has made his ability to accomplish his dreams infinitely more possible.
"All of us in the Shoals are standing on the shoulders of the Swampers and the records made in that little block building," White said, referencing 3614 Jackson Highway, which was the site for dozens of hit recording sessions. "Knowing that one of the more storied recording studios was in my area made my dreams seem much more attainable. I could never repay that debt, but I'll do my best."
As he reflects on his career, one still very much spent in sessions and as part of new music coming from the Shoals, Hood said having his honorary baccalaureate from UNA brings him a sense of pride, according to his wife, Judy, who works alongside long-time friend Debbie Wilson at 3614 and continues to power the engines behind the local music scene.
"I don't think I have ever seen him as excited as he was that day," she said. "He could not stop smiling, and that was very special. For all of us."
About The University of North Alabama
The University of North Alabama is an accredited, comprehensive regional state university offering credential, certificate, baccalaureate, master's, and doctoral programs in the colleges of Arts, Sciences, and Engineering; Business and Technology; Education and Human Sciences; and the Anderson College of Nursing and Health Professions. The first-choice University for more than 10,000 on-campus and online students, UNA is on a bucolic campus in Florence, Alabama, part of the historic and vibrant Shoals region. Lions Athletics, a renowned collegiate athletics program with seven (7) Division II National Championships, is now a proud member of the NCAA Division I's ASUN Conference. The University of North Alabama is an equal opportunity institution and does not discriminate in the admission policy on the basis of race, color, sex, religion, disability, age, or national origin. For more: www.una.edu and www.una.edu/unaworks/