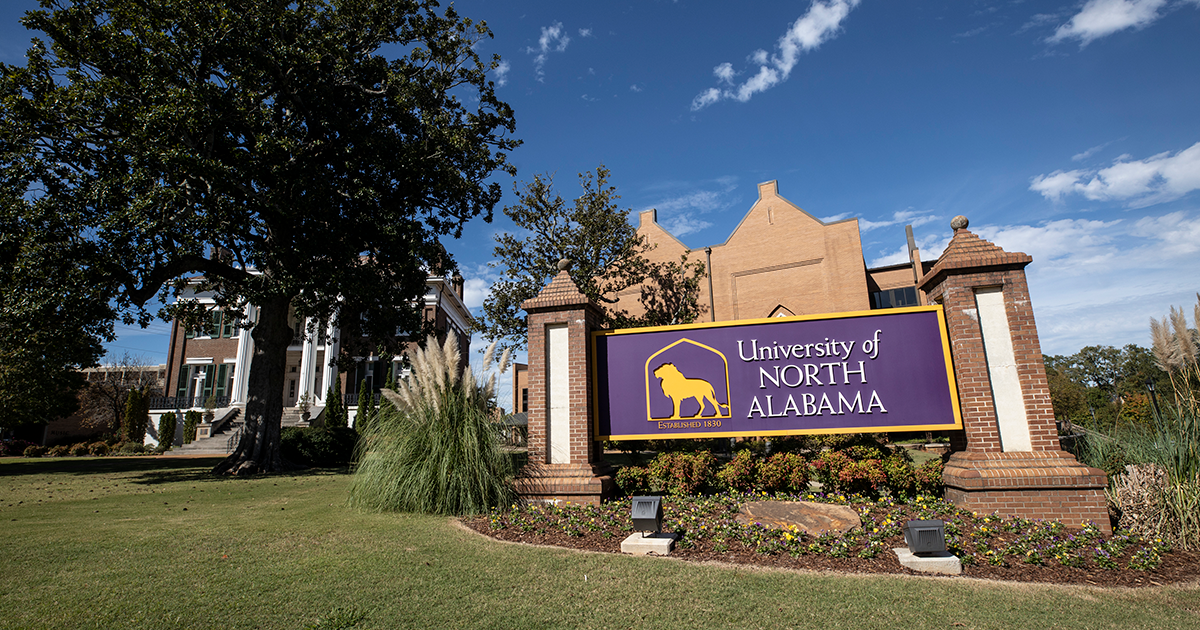 Una Partners With Athens State University For New Master's Program In K-6 Elementary Education
Jul. 12, 2013
Michelle Eubanks, UNA, at media@una.edu, 256.765.4392 or 256.606.2033
By Elise Cofield,Student Writer
FLORENCE, Ala. - Since its inception in 1872 as Florence Normal School, the University of North Alabama has been founded on the central mission of "giving aspiring educators the support, guidance and instruction to be the best teachers they can," said Donna Lefort, dean of the UNA College of Education and Human Sciences.
That mission continues to broaden in scope this fall, as UNA teams up with the College of Education at Athens State University to offer a Master of Arts in Education (MAED) graduate program at ASU's campus in Limestone County. The program was developed in response to a request made by ASU that the two regionally connected schools collaborate.
The MAED program will provide a means for K-6 educators to earn a master's degree on a schedule that does not interfere with the traditional workday, with classes offered in the late afternoons and evenings.
UNA has offered an identical master's degree in an online format for two years, but the courses that are part of the new partnership will be offered in what Lefort calls a "hybrid format," combining online class time with classroom-setting instruction.
"The entry-level bachelor's teacher leaves with the basic knowledge and skill set necessary to lead a classroom," said Dr. Vicky Hulsey, chair of the UNA Department of Elementary Education. "The master's degree adds to that the application, understanding and research-based focus, taking it to a higher level."
Beyond the professional advantage that a master's degree provides educators, Lefort added that master's certification is one of the most common ways to renew a teaching license, not to mention the benefit of the automatic pay increases the state of Alabama offers to educators who hold higher-level degrees.
"There is some value in the face-to-face, personal interaction element of teacher education," Lefort said. "Bringing our program to (ASU) gives students the opportunity to enhance their skill sets. (ASU) has a very large undergraduate population studying teacher education, so we're trying to collaborate rather than compete."
Based on positive feedback from a June 18 interest meeting in Athens, Lefort said all is on track for the first two courses to be offered this fall. The program has already accepted a number of students and will remain open.
Lefort and Hulsey expect the typical MAED student to already have a full-time teaching position, but they say the program can be just as beneficial to those who have obtained an undergraduate degree.
Candidates must meet certain qualifications beyond acceptance to UNA to qualify for the MAED program, including:
Possession of a Class B Professional Educator certificate in K-6 elementary education.
Passing an ABI/FBI background clearance and being deemed suitable for teaching by the Alabama State Department of Education.
Bachelor's degree from a regionally accredited institution.
Acceptable score on the MAT, GRE or Praxis II test.
The UNA College of Education and Human Sciences is accredited by The National Council for Accreditation of Teacher Education (NCATE).
To inquire about enrollment in the UNA/ASU MAED program, contact Russ Darracott, assistant director of UNA Graduate Admissions and Services, at 256-765-4447 or by email at graduate@una.edu, or contact Vicky Hulsey at 256-765-4251 or vwhulsey@una.edu.