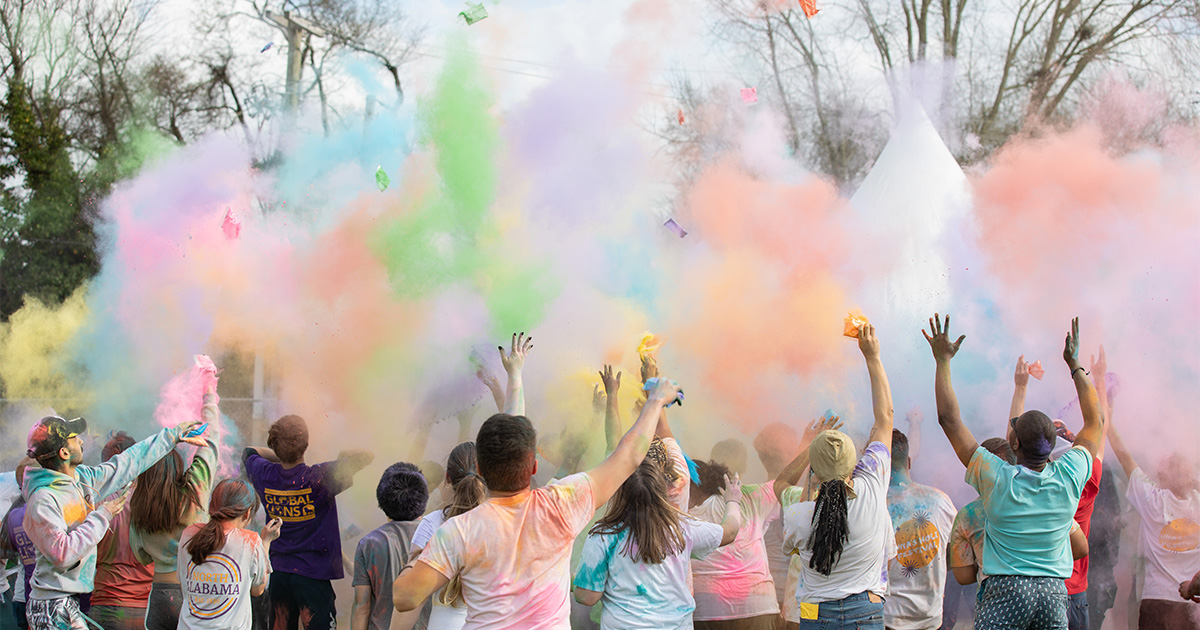 Holiday Traditions Abound at UNA
Dec. 16, 2022
Caroline Conkle , at cconkle@una.edu
The University of North Alabama has long been known for its traditions. The Lucky Dip greets students when they return to campus in the fall. The lighting of Harrison Fountain has become a rite of spring. And there is nothing like the experience of tailgating on Spirit Hill before the Lions take the field. 
Holiday traditions are also student favorites. Many students celebrate Christmas, and the University has a long Christian tradition, having been founded in the Methodist faith at the LaGrange College site in Colbert County. Thanks to a large international student population, a number of new seasonal celebrations also take place. 
UNA is home to students who represent more than 50 countries, and those students bring diverse holiday traditions with them when they come to campus. Among the celebrations that take place these days are the Holi Festival, Diwali, and Ramadan. 
Shin Myat Hla, a junior majoring in Biomedical Engineering, came to UNA from Myanmar, which was previously known as Burma. As a student, she has brought some of the traditions from her home country to campus, among them is Thadingyut, a festival of light that takes place in September or October. 
"It means a lot to be able to celebrate," Myat Hla said. "I am one of the first Burmese students to arrive on this campus, so a lot of people don't know where my country is. It is very nice to share the culture and when people start to know the name of my country. It means a lot because my country is very small, and it is going through a lot of things at this time." 
Other students, including Apruv Raj, a graduate student getting his MBA in finance, and Nandini Upadhyay, a junior majoring in finance, are from India and celebrate Diwali, which is also known as a festival of lights. 
"It is not only just a festival for celebration, it is our custom," Raj said of the event that takes place in October and also serves as a gathering of friends and family. "As I am from India, my culture is different, and it is important that I showcase my traditions and beliefs."
Raj, Upadhyay, and others were able to celebrate Diwali on UNA's campus at the BCM, or the Baptist Campus Ministries building, and have been doing so for a couple of years. 
"It means a lot to me as I am far from my home and family," Upadhyay said. "It is always special to celebrate here. When I am here celebrating, it reminds me of those at home. It is something I have celebrated all my life and to explain it to those in the Unites States, and to have them know about India – it is very special to me." 
Of course, Christmas is most widely celebrated on campus. Like Thadingyut and Diwali, Christmas is also one that celebrates light and brings families and friends together. 
Exercise Science major and junior Jessica Thiot has grown up celebrating Christmas and enjoys being able to do so as a college student. 
"Growing up, I celebrated it because I thought it was about getting presents and getting out of school," she said. "In the last couple of years, I have come to realize the importance of celebrating it because it is all about the birth of Jesus (Christ). I am glad the United States gives me the ability to freely celebrate my religious beliefs while also allowing other religions to celebrate their traditions."
About The University of North Alabama
The University of North Alabama is an accredited, comprehensive regional state university offering credential, certificate, baccalaureate, master's, and doctoral programs in the colleges of Arts, Sciences, and Engineering; Business and Technology; Education and Human Sciences; and the Anderson College of Nursing and Health Professions. The first-choice University for more than 10,000 on-campus and online students, UNA is on a bucolic campus in Florence, Alabama, part of the historic and vibrant Shoals region. Lions Athletics, a renowned collegiate athletics program with seven (7) Division II National Championships, is now a proud member of the NCAA Division I's ASUN Conference. The University of North Alabama is an equal opportunity institution and does not discriminate in the admission policy on the basis of race, color, sex, religion, disability, age, or national origin. For more: www.una.edu and www.una.edu/unaworks/