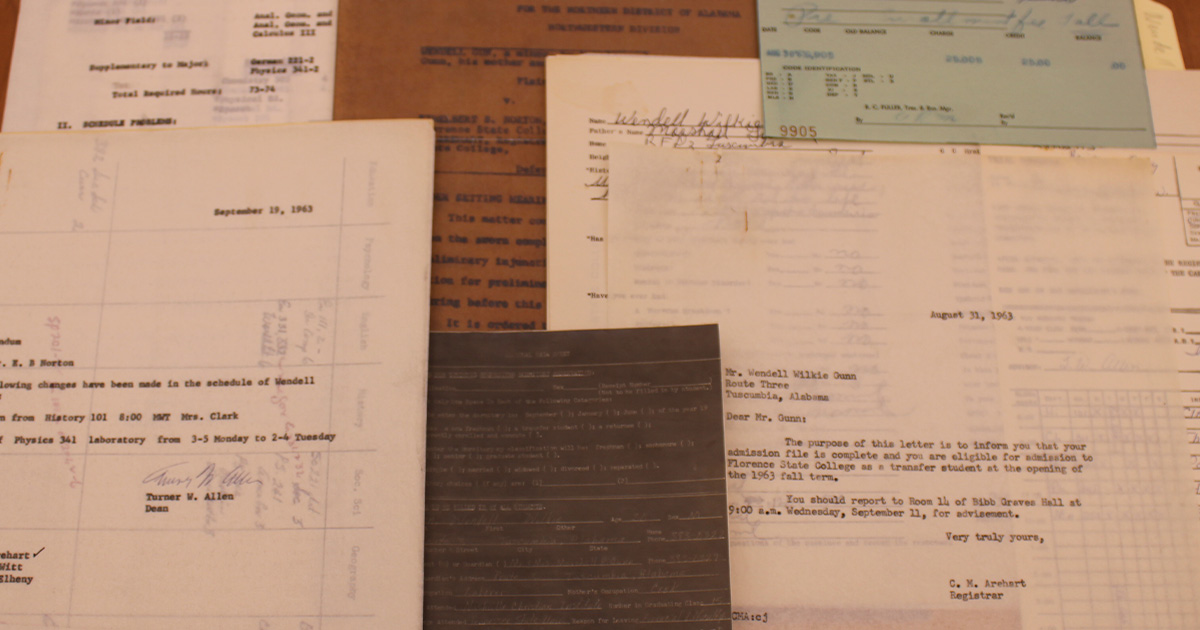 Wendell Gunn's Admissions Records Found, Archived
Jun. 21, 2023
Caroline Conkle , at cconkle@una.edu
At an institution with almost 200 years of history, it is not altogether unusual to come across information with historical significance. Recently, this happened through some routine digitization of admissions records being done by the University of North Alabama Office of the Registrar. 
But these weren't any old records. These records belong to Dr. Wendell W. Gunn, the student who integrated campus in 1963 and who now sits on UNA's highest governing body, its Board of Trustees. Already, the records have been transferred to the University Archives and Special Collections and included in Gunn's records housed in the UNA collection. 
Dr. Gunn, on campus recently for a Board meeting, called this discovery "a humbling sort of thing" as he was a teenager when he lost his first option for college and saw another one here at what was then Florence State College. 
"The trajectory of my life changed dramatically as a result of my coming here that I cannot even describe it," Dr. Gunn said. "Of all the things that I have done, I consider that the most important thing. And I still worry about how things are going. At that time, I thought the difference between black and white wouldn't be the same as the difference in tall and short. It really should have no significance to it." 
The records themselves contain Dr. Gunn's admissions paperwork, his documents to prove his was eligible to attend a then-all white schools, and other personal correspondence on his desire to be admitted to the institution. 
Dr. Gunn said he has seen some of the documents, and he has the original court order from the federal judge that was presented to Dr. E.B. Norton who was president of the institution at the time. 
"These documents are vital to our understanding of UNA and the Civil Rights Era," said UNA Historian Dr. Jeffrey Bibbee. "Dr. Gunn's admission was a personal milestone but also very much a seminal moment in our institution's story of diversity, equity, and inclusion. No other students at the time would have needed court orders and records to be admitted, and this shows just how political and contentious this period of history was for UNA and other institutions." 
Among the documents recovered and digitized are the court records that include notary seals as these are not typical items included in student records, according to Dr. Bibbee. 
"The use of a court order highlights that each and every one of Alabama's colleges and universities required a separate court case to be integrated," he said. "It wasn't just one case that opened all colleges at once. Had it not been for Wendell Gunn, it might have been months – or years – before this happened at our institution."
The documents are on very delicate onion-skin paper, protected from excess heat and humidity and stored in the dark to avoid unnecessary exposure to light sources. These precautions are vital to ensure their longevity as a tangible part of the University's history. 
As a member of the Board of Trustees, Dr. Gunn continues to be an active member of the campus community. His appointment came in 2019 by Alabama Gov. Kay Ivey and on the 55th anniversary of the passage of the Civil Rights Act of 1964. 
As a student, Dr. Gunn received academic honors, and he participated in a number of extracurricular activities, including the choir. After he graduated in 1965 with a degree in chemistry, he continued his education at the University of Chicago. In his professional life, Dr. Gunn has served as a vice president at Chase Manhattan Bank, assistant treasurer at PepsiCo, and, later, in the White House as a senior advisor, Special Assistant for International Trade, to President Ronald Reagan.
"Wendell Gunn pushed open the doors on this campus for generations of underrepresented populations," said Dr. Bibbee. "He ushered in a new period in our institutional history. We have to see this in its totality, and these documents are very much at the start of that long and very impressive history." 
UNA's Archives and Special Collections are house in Collier Library. The campus and broader community are welcome to view Dr. Gunn's papers as well as the other artifacts stored there.
About The University of North Alabama
The University of North Alabama is an accredited, comprehensive regional state university offering credential, certificate, baccalaureate, master's, and doctoral programs in the colleges of Arts, Sciences, and Engineering; Business and Technology; Education and Human Sciences; and the Anderson College of Nursing and Health Professions. The first-choice University for more than 10,000 on-campus and online students, UNA is on a bucolic campus in Florence, Alabama, part of the historic and vibrant Shoals region. Lions Athletics, a renowned collegiate athletics program with seven (7) Division II National Championships, is now a proud member of the NCAA Division I's ASUN Conference. The University of North Alabama is an equal opportunity institution and does not discriminate in the admission policy on the basis of race, color, sex, religion, disability, age, or national origin. For more: www.una.edu and www.una.edu/unaworks/