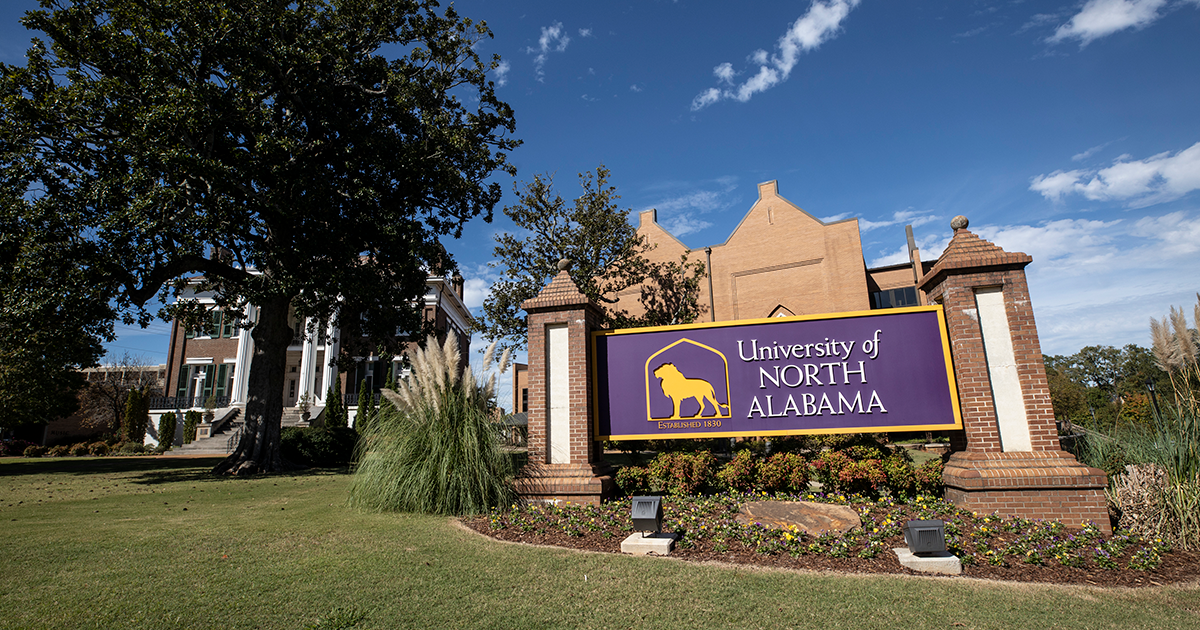 Inaugural Shoals Dragon Boat Festival Benefits Kilby Laboratory School On Una Campus
Oct. 15, 2013
Michelle Eubanks, UNA, at media@una.edu, 256.765.4392 or 256.606.2033
By Terry Pace,Communications and Marketing
FLORENCE, Ala. - A majestic fleet of dragons will be gliding its wondrous, colorful way through the Shoals later this week.
The inaugural Shoals Dragon Boat Festival - a fundraiser for Kilby Laboratory School on the University of North Alabama campus - begins at 9 a.m. Saturday, Oct. 19, at McFarland Park on the banks of the Tennessee River.
"There are several dragon boat festivals in other cities in Alabama," according to Emily Rhodes, who is chairing the committee for the Kilby benefit project. "Montgomery, Guntersville, Gadsden, Tuscaloosa, Mobile and Decatur all have them, as well as Memphis, Nashville and Chattanooga, and they have had great success. We thought it was a fun idea that hadn't been done in our area before, so we wanted to bring an exciting, community-oriented, family-friendly event to the Shoals."
The fundamental purpose of the festival - featuring Hong Kong-style dragon boats provided by Dynamic Dragon Boat Racing of Knoxville, Tennessee - is to raise an estimated $30,000-$40,000 in funds for Kilby, a K-6 laboratory school that allows UNA students to engage in interdisciplinary teaching, research and service opportunities.
"Kilby Laboratory School recently faced a critical period in its existence, and the decision was made to keep the school running as a laboratory school for UNA," noted Dr. Scott Infanger, president of the Kilby Parent-Teacher Organization and an assistant professor of foreign languages at UNA.
"Part of the arrangement included the understanding that Kilby would become more financially self-reliant," Infanger explained. "It doesn't take too much looking to see that many, many of the students and families all over the Shoals have benefited from the work done at Kilby, whether as alumni of the school or students of teachers trained there. Just as UNA is an important part of the Shoals, Kilby is an important part of UNA, and by extension, the Shoals. The Dragon Boat Festival has the potential to provide a great deal of financial stability to Kilby while bringing the community together in a fun and exciting way."
Infanger noted that similar races across the country have proven track records in terms of both public popularity and fund-raising potential. He and Rhodes both stress that the Shoals Dragon Boat Festival is open to the entire Shoals community, not just students, teachers, parents, alumni and other supporters of Kilby.
"We hope that this will become a huge annual event for our area," Rhodes remarked. "All schools face budget issues, and this is a way that the PTO can offer something unique for our community and raise funds that can be used to keep our classrooms up-to-date with the latest technology and other items that we need to help our students thrive. We feel that Kilby is an important part of the UNA community, as the only laboratory school left in our state. Any time we can bring awareness to our school is a bonus."
Teams participating in the Shoals Dragon Boat Festival will include UNA boats (representing social groups, athletic teams and various offices and departments) as well as non-UNA boats (representing community groups, churches and businesses). Each team consists of 20 paddlers, a drummer and two or three alternates. Each team is guaranteed two races - a morning and afternoon heat - with each heat featuring three teams. The top 12 teams then move on to the final rounds.
For more information on the Shoals Dragon Boat Festival, visit the festival's website at www.shoalsdragonboatfestival.com.