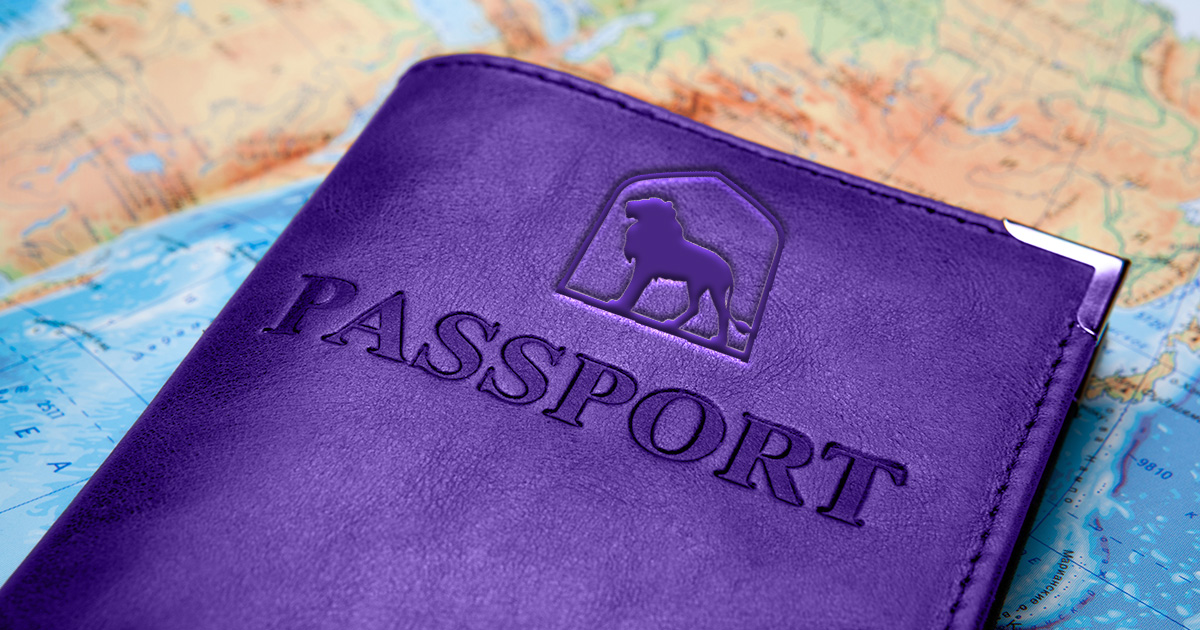 An Experience of a Lifetime
Jul. 07, 2023
Reagan Babb , at rbabb@una.edu
Second in a Series 
Reagan Babb, of Hamilton, has her bachelor's degree in secondary education in English Language Arts, and she is hard at work at the University of North Alabama on her master's degree in English. 
"My plans are one day to earn a PhD in English and teach college," she said. 
Reagan took part of her summer to study abroad through one of UNA's many experiential learning opportunities. Her travels took her to the United Kingdom and Scotland. Here are some of her reflections of her recent study-abroad experience. 
I first learned about the study abroad program when I transferred to UNA in the Spring of 2020. It has always been a dream of mine to travel to England, even before I knew that I wanted to study English literature. Because of COVID-19, I thought I has missed the opportunity as an undergraduate student. When I began working toward my master's degree this past fall, I was thrilled to learn that a Summer 2023 trip was planned for England and Scotland. 
This trip is something I would have likely never been able to achieve on my own. I felt safe and supported throughout the trip, which was super important to me. I remember looking online at the manor house – Harlaxton College – where we would be staying for the first week of our trip, but nothing could have prepared me for the impact of seeing the impressive 17th century palace when I saw it in person. 
Having a two-week trip filled with learning about British authors, poets, and playwrights, while touring their homes and other famous locations made for the trip of a lifetime. I especially enjoyed attending class in the morning during which we would read the work of a poet or author that would hold specific importance to the locations we visited each day. Our stops included Grantham, Nottingham, Peterborough, London, and Edinburgh. 
One bonus about participating in study abroad is that I was able to earn course credit that would count toward my degree. For this trip, I enrolled in two courses: The Literary Tourist and British Film and Theatre. There is something magical about walking down the same roads and visiting the same homes and areas that famous literary masters walked as well. On. For example, on our first official day, we visited William Shakespeare's home in Stratford-upon-Avon. I never thought I would get the opportunity to watch a Shakespeare play at the Globe Theatre. That was a memorable moment that I can now mark off my bucket list!
Thought I had never read Shakespeare's Comedy of Errors, I was mesmerized by the actors' performances and how they brought the characters to life. It is such a surreal feeling to have these authentic experiences associated with viewing the places that these authors, poets, and playwrights lived and worked. 
My favorite parts of the trip included viewing plays at different theatres and sampling the local cuisine. I looked forward to having my daily dose of afternoon tea with cream and sugar. (I could never muster the courage to try blood sausage or a Scotch egg.) One of my favorite spots to eat was Lady Chatterley's Lover, which, I presume, is named for D.H. Lawrence's novel by the same name. 
I loved being able to make connections to literature and sense the respect and pride that the communities I visited had toward the literary greats who called these places home. Another perk to the trip was the free time we had to shop and explore the different areas we were visiting. Each day held a new surprise, one of which was the steep steps in Scotland that felt a little like a stairway to heaven. I enjoyed looking at the stunning English countryside, too. It was truly breathtaking to see the lush landscapes and blooming flowers. I could not believe the picturesque view of the different areas we visited, including Sir Walter Scott's home in Scotland. 
This trip was everything I hoped it would be and more! I am so thankful I was fortunate enough take part in this trip. This experience allowed me to meet new people and make new friends.
About The University of North Alabama
The University of North Alabama is an accredited, comprehensive regional state university offering credential, certificate, baccalaureate, master's, and doctoral programs in the colleges of Arts, Sciences, and Engineering; Business and Technology; Education and Human Sciences; and the Anderson College of Nursing and Health Professions. The first-choice University for more than 10,000 on-campus and online students, UNA is on a bucolic campus in Florence, Alabama, part of the historic and vibrant Shoals region. Lions Athletics, a renowned collegiate athletics program with seven (7) Division II National Championships, is now a proud member of the NCAA Division I's ASUN Conference. The University of North Alabama is an equal opportunity institution and does not discriminate in the admission policy on the basis of race, color, sex, religion, disability, age, or national origin. For more: www.una.edu and www.una.edu/unaworks/