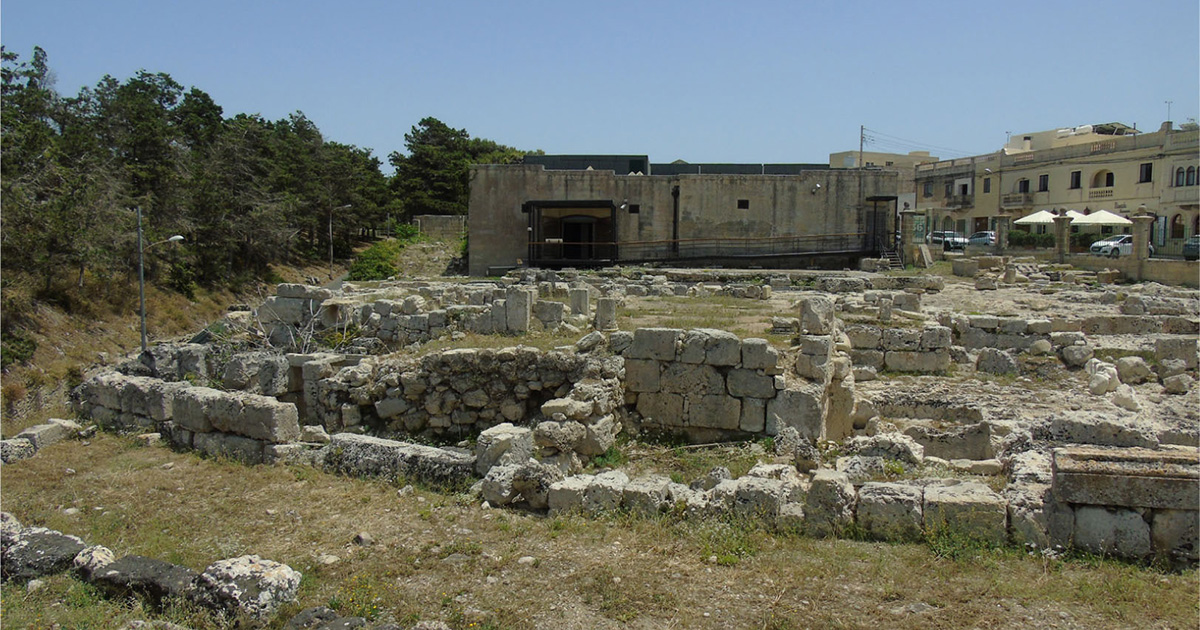 UNA History Professor Co-Directs Archaeology Project
Aug. 21, 2023
Ella G. Stephenson , at estephenson5@una.edu
While some folks choose to spend their summertime surfing and suntanning, a few professors at the University of North Alabama used their time away from the classroom to engage in other pursuits.  
This summer, University of North Alabama History Professor Dr. Benedict Lowe joined his colleagues from Heritage Malta, the University of South Florida, and Intercontinental Archaeology as co-director of the Melite Civitas Romana Project. 
"The project began in 2019 and is exploring the environs of the Doms Romana in Rabat," said Dr. Lowe. "The Doms was discovered in 1881 and has yielded spectacular mosaics, frescoes, and statues of Emperor Claudius and his family. Further excavations were carried out by Sir Themistocles Zammit in the 1920s. Unfortunately, these excavations were largely unpublished."  
The goal of the project is to reevaluate the areas where Zammit excavated and to open up new areas exploring the relationship of the Doms to the rest of the Roman town, he said.  
"This is the most important Roman site on Malta, and the largest international project on the island with significant potential for our understanding of the island," Dr. Lowe said.  
He and his colleagues focused their efforts on the area to the rear of the Doms where Zammit discovered what he thought was a neighborhood of 2nd Century Roman shops and houses. The team uncovered mosaic remains and frescoes, suggesting it was a wealthier neighborhood than they had previously thought.  
The team concluded that epigraphic evidence shows that wealthy individuals invested in the maintenance of public buildings. The team further reasoned it is possible that the political isolation of the islands and the lack of a significant urban government meant that the burden for public generosity fell to the wealthy.  
The abandonment of the Doms Romana and its neighboring structures is indicative of its early decline by the fourth century AD. Evidently, the site of the Doms was vacant by the ninth century. This can be explained by evidence which suggests that the island was a peripheral location exposed to attacks.  
The project took place over three weeks in June, and during this time, the colleagues were visited by several high-profile individuals, including the Australian High Commissioner, Jenny Cartmill, and the United States Embassy Deputy Chief of Mission, Angela Cervetti.  
In previous years, the results of the project's excavations and fieldwork have been presented at numerous conferences. In January of next year, the 2023 fieldwork will be presented at the American Institute for Architects (AIA) meeting in Chicago. 
UNA students Garrett Keenum, Luke Parish, and Charlie Makowski have participated in the Melite Civitas Romana Project in previous seasons. Dr. Lowe said he hopes that more UNA students will join him and his colleagues in the future.  
Dr. Lowe and previous participants are not alone in their commitment to research and better understanding of the past. 
"Our faculty are not only experts in their fields but continue to conduct original research – in the archives, in communities, and, in this case, archeological digs," said Dr. Ansley Quiros, Chair of UNA's Department of History. "As much as we have discovered about the past, there is so much yet to learn. As historians, we are committed to this ongoing process of discovery and to enhancing our collective knowledge. The UNA Department of History hopes to share exciting opportunities available for historical research as well as model joy in life-long learning for our students."
About The University of North Alabama
The University of North Alabama is an accredited, comprehensive regional state university offering credential, certificate, baccalaureate, master's, and doctoral programs in the colleges of Arts, Sciences, and Engineering; Business and Technology; Education and Human Sciences; and the Anderson College of Nursing and Health Professions. The first-choice University for more than 10,000 on-campus and online students, UNA is on a bucolic campus in Florence, Alabama, part of the historic and vibrant Shoals region. Lions Athletics, a renowned collegiate athletics program with seven (7) Division II National Championships, is now a proud member of the NCAA Division I's ASUN Conference. The University of North Alabama is an equal opportunity institution and does not discriminate in the admission policy on the basis of race, color, sex, religion, disability, age, or national origin. For more: www.una.edu and www.una.edu/unaworks/