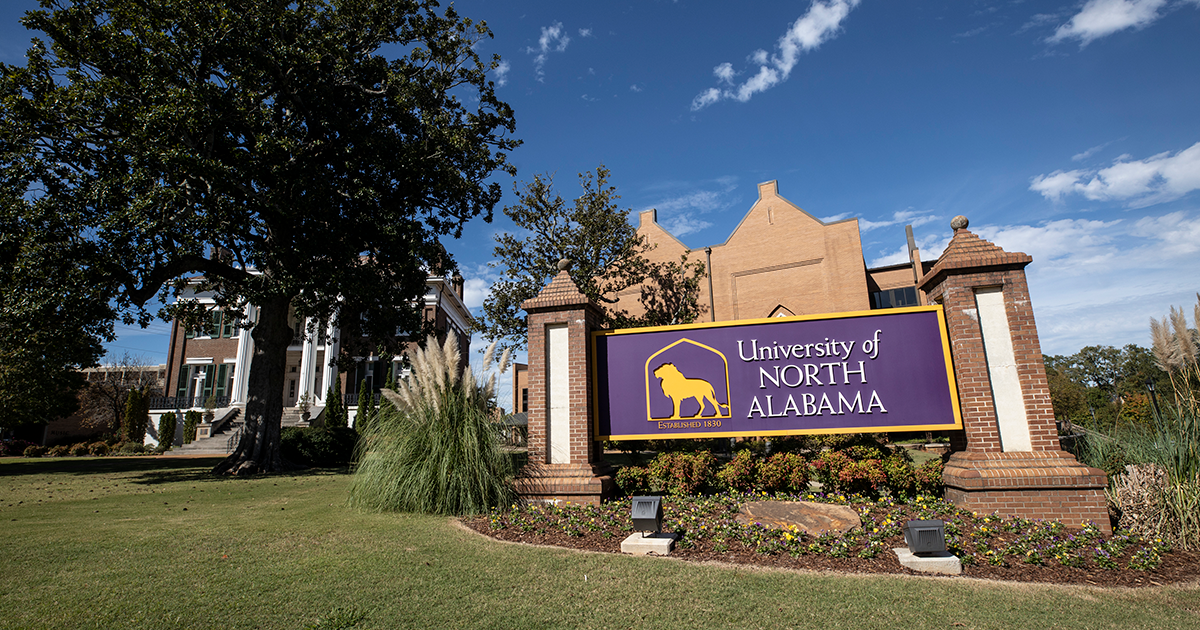 University Of North Alabama Offers A Sustainable Future With Only Sustainability Degree Available In Alabama
Oct. 12, 2018
Michelle Eubanks, UNA, at media@una.edu, 256.765.4392 or 256.606.2033
By Bryan Rachal
University Communications
FLORENCE, Ala.-Sustainable food sources. Sustainable resources. Sustainability has been a buzzword for some time now and can really be associated with anything.
So what is it?
"It's really a use of resources, whatever they are, for long-term availability to the next generation," said Dr. Brenda Webb, chair of the UNA Department of Physics and Earth Science.
Really, in terms of how we use the word today, it's usually associated with the environment. More specifically, protecting the environment for future generations.
"It's all about forward looking," Webb said.
With that in mind, Webb and colleagues were definitely forward thinkers when they decided to establish the very first sustainability major in Alabama at the University of North Alabama, almost four years ago.
"We have our first official graduate coming up in the spring and we are definitely excited about our first one," Webb said. "We currently have 15 official students in the program, so we want to grow that number, obviously."
That shouldn't be too hard considering that job prospects for sustainability majors are there and waiting. Webb said recent studies she's seen estimate that 4 - 4.5 million sustainability jobs will be available in the U.S.
"The job market is really increasing very rapidly for sustainable jobs," Webb said. "And you can Google almost any area and somewhere in those lists will be several employers looking for sustainable backgrounds."
Situated in UNA's Physics and Earth Sciences program, the major really encompasses all aspects of campus, which Webb said is by design.
"Earth Sciences give you the right context for looking at resources," she said. "When we designed the major we deliberately left electives scattered throughout so that if students were interested in spending time in the political perspective or economic perspective, they can, while still being grounded in the science aspect of it."
The major also goes along well with the current UNA Center for Sustainability, which was established to foster research and scholarship, awareness and development of initiatives in all aspects of sustainability.
"The center functions primarily as a communications piece at this point and keeps people informed about events and projects around campus and the community," Webb said. "Ideally, we will move toward function like other campuses where their sustainable practice on campus actually generates funds because it's such an integral part of recycling, reusing and selling."
Since UNA's Center for Sustainability is not quite at that point yet, Webb says what they're trying to do now is integrate it into the academic side.
"The University requires eight credit hours of science, so we're trying to make some of our early sustainability courses count as a science credit and hopefully more students will choose those for those required hours," she said.
And that's the point, Webb and her colleagues are simply trying to get the information out that a sustainability major exits, and not only that, but it's exciting.
"It is exciting, because it plays to anyone person's interest," Webb said.
For more information on the sustainability degree at UNA:https://www.una.edu/physicsandearthscience/Earth%20Systems%20Sustainability/index.html
UNIVERSITY OF NORTH ALABAMA
The University of North Alabama is an accredited, comprehensive regional state university offering undergraduate and graduate degree programsthrough the colleges of Arts and Sciences, Business,Education and Human Sciences, and the Anderson College of Nursing and Health Professions.Occupying a 130-acre campus in a residential section of Florence, Alabama, UNA is located within a four-city area that also includes Tuscumbia, Sheffield and Muscle Shoals. UNA Athletics, a renownedcollegiate athletics program with seven (7) Division II National Championships, is now a proud member of the NCAA Division I's ASUN and Big South Conferences.The University of North Alabama is an equal opportunity institution and does not discriminate in the admission policy on the basis of race, color, sex, religion, disability, age or national origin.