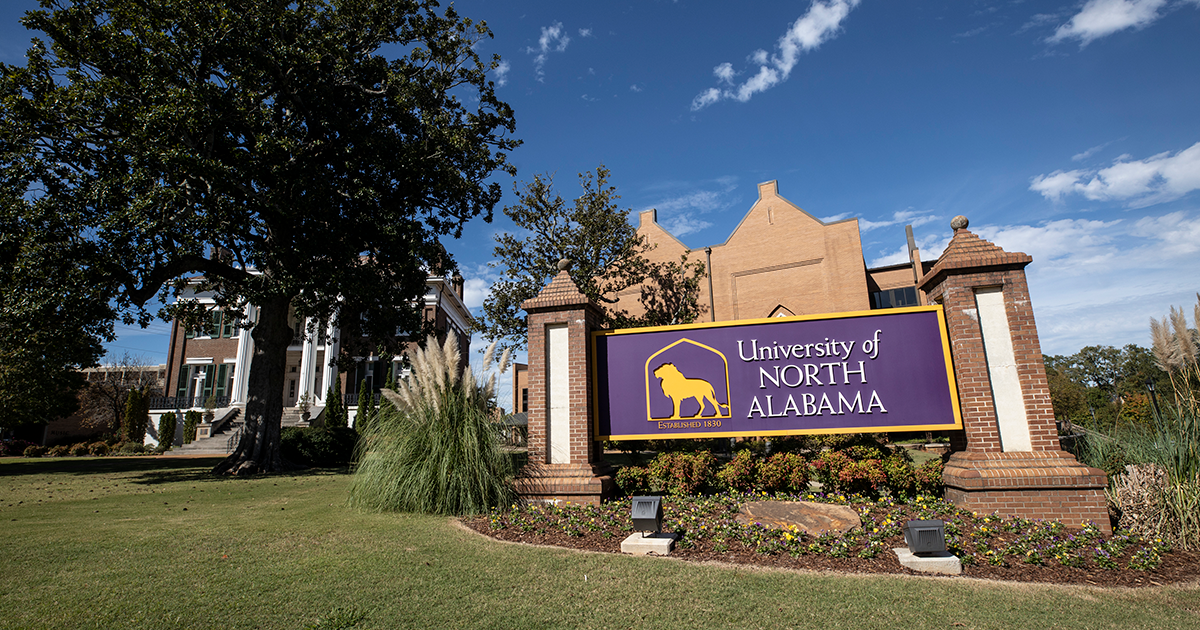 Una Wind Ensemble, Studio Jazz Band Present 'american Masters' Concert Thursday Night At Norton
Mar. 19, 2014
Michelle Eubanks, UNA, at media@una.edu, 256.765.4392 or 256.606.2033
By Terry Pace, Communications and Marketing
FLORENCE, Ala. - The University of North Alabama Wind Ensemble and Studio Jazz Band will present an "American Masters" concert at 7 p.m. Thursday, March 20, at Norton Auditorium on the UNA campus.
The special evening of live music - under the direction by Dr. Lloyd Jones, UNA's director of bands - will include classic compositions by such renowned American musical masters as Leonard Bernstein, Leroy Anderson, Stephen Foster and C.L. Barnhouse.
Born during the final year of the American Civil War, Barnhouse knew many veterans and surviving family members of the bloody and divisive conflict that pitted brother against brother. "American Masters" will include a performance of Burnside's "Battle of Shiloh," inspired by the costly April 1862 clash between Union and Confederate soldiers at Shiloh Church, a small meeting house near Pittsburgh Landing, Tennessee.
"It was the mid-1800s when C. L. 'Charley' Barnhouse, an 18-year old self-taught cornet player, left his West Virginia home and joined the band on one of the many small musical-comedy roadshows of the day," Jones explained. "His travels ended in Iowa, where he worked as a machinist and directed bands in a number of Southern Iowa towns. In addition, he composed music for band with aspirations of publishing his own music."
The C. L. Barnhouse Co. was founded in 1886, with Barnhouse launching his publishing catalog by writing most of the music himself.
"From his prolific pen flowed wonderful marches, waltzes, rags, and concert numbers which were very popular with the community bands of the day," Jones remarked. "Now, Mr. Barnhouse is remembered for the publishing business he founded, but we are fortunate that through the re-publication of several of his best-known marches, the genius of this pioneer in the band business is being rediscovered."
One of America's best-known composers and pre-eminent conductors, Bernstein (West Side Story, Peter Pan, Wonderful Town) will be represented on the UNA concert program with his "Overture to Candide." Often hailed as "the Renaissance man of American music," Bernstein earned added renown as a pianist, author and teacher. A famed series of "Young People's Concerts" established Bernstein as an engaging television personality, and he earned further accolades delivering the Charles Eliot Norton Lectures at Harvard University. The "Overture to Candide" promises to be a crowd-pleasing highlight of Thursday night's performance.
"A brief flourish in the brass leads directly to the first of the work's two principal themes, a brash and rollicking melody," Jones noted. "The second main subject, taken from the vocal duet 'Oh, Happy We,' is more lyrical. Bernstein introduces a pair of new melodies in the overture's concluding paragraph, one of them a tune from the show's best-known song, 'Glitter and Be Gay.' The composer repeats them at successively louder dynamic levels, creating the kind of long crescendo made famous by Rossini in his overtures to The Barber of Seville and other operas. Fragments of the earlier ideas soon reappear, and the composer toys with our expectations in the closing measures."
The "American Masters" concert will also highlight the musical contributions of Leroy Anderson - one of America's most respected composers of light concert music - with a performance of "Bugler's Holiday." Born in Cambridge, Massachusetts, to first-generation Swedish immigrants, Anderson started out as a trombonist, became director of the Harvard Band and served as an Army captain during World War II. A versatile linguist, Anderson also wrote a book on Icelandic grammar and worked in intelligence.
"Anderson achieved fame as arranger for the Boston Pops Orchestra, and for his conducting," Jones remarked. "This trio may motivate trumpet players to learn or improve their articulation, intonation and ensemble playing. Although the 'Holiday' is relatively uncomplicated, performers are motivated to show their ability. Above all, it's fun to play and hear."
A special "Tribute to Stephen Foster" - honoring the 19th-century composer recognized as "The Father of American Music" - will include such beloved American standards as "Oh! Susanna," "Camptown Races," "My Old Kentucky Home," "Beautiful Dreamer" and "Old Folks at Home (Swanee River)." A native of Pennsylvania and the youngest of ten children, Foster's education involved little formal music training and only one month of college.
"Rather than writing nostalgically for the South or trivializing the hardships of slavery, Foster sought to humanize the characters in his songs and to convey a sense that all people share the same longings for family and home," Jones observed. "He instructed white performers of his songs not to mock slaves, but to get their audiences to feel compassion for them. In his own words, he sought to 'build up taste ... among refined people by making words suitable to their taste, instead of the trashy and really offensive words which belong to some songs of that order.' "
The evening will also feature a special "Armed Forces Salute," arranged by Bob Lowden, that has become a proud tradition at UNA Band Concerts.
"In recognition and thanks for all armed forces service members, both current and past, the University of North Alabama Symphonic Band would like to invite you to join us in saluting these brave men and women, people without whom we would not have the freedoms we enjoy today," Jones added. "As we play the 'Armed Forces Salute,' if you are a member of, a veteran of, or have a family member or friend in any of the Armed Services, please stand when you hear that service's song, in honor of these people."
In addition to the UNA Wind Ensemble, Thursday's concert will also showcase the talents of the UNA Studio Jazz Band.
"The music of Count Basie, Duke Ellington, Glenn Miller, Nat "King" Cole, Benny Goodman and many more will fill the auditorium on the second half of the program," Jones explained. "Included will be a medley depicting a trip around the United States which begins and ends in Alabama. The evening will conclude with Benny Goodman's 'Sing, Sing, Sing,' written by Louis Prima. Drummers Christian Clark of Huntsville and Ross Hampton of Cullman will handle the Gene Krupa drum solos."
Tickets for "American Masters" are $15 for general admission, $5 for students and free to all military personnel and veterans and children ages 10 and younger.For more information, contact the UNA Department of Music and Theatre at 256-765-5122 or visit http://www.una.edu/music-theatre/.