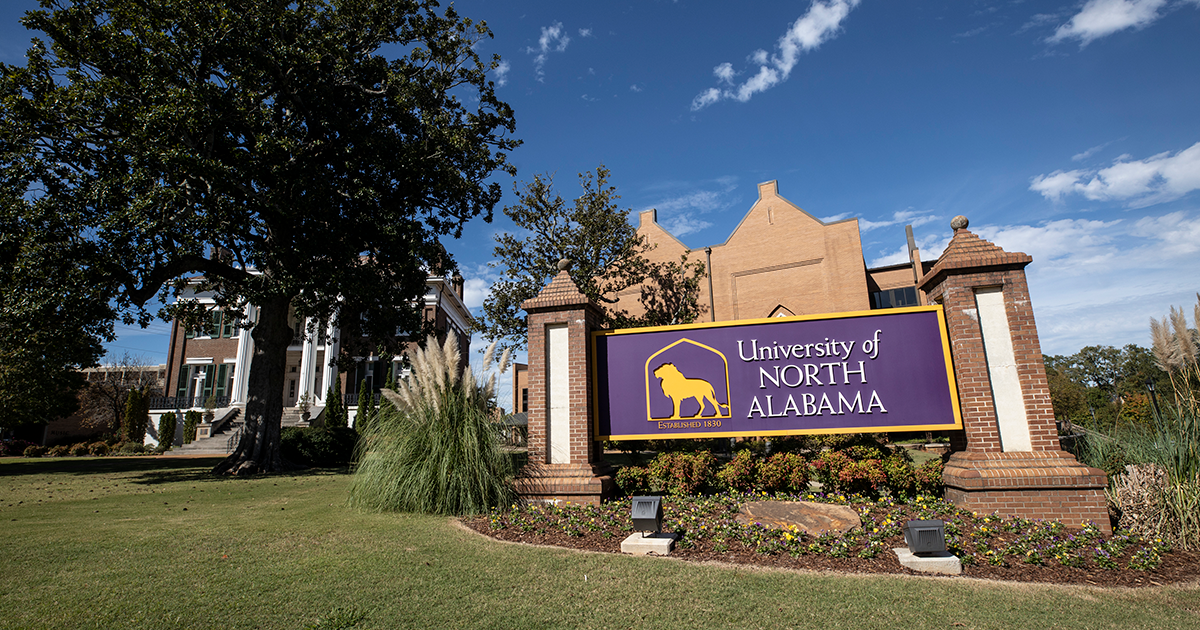 Una Students Places Third In Nationwide Design Competition
Aug. 15, 2019
Michelle Eubanks, UNA, at media@una.edu, 256.765.4392 or 256.606.2033
FLORENCE, AL - A group of University of North Alabama Interior Architecture and Design students have placed third in the Design and Build program, a national collegiate design competition implemented by the Museum of Outdoor Arts, a Colorado-based nonprofit arts organization. The win comes with a $1,000 prize.
"Being able to compete in the Design and Build competition was an amazing opportunity," said Callie Kramer, the group leader for the UNA students that also included Brittany Burkett, Peyton Clemmer, Crystal Henry, and Faith Watts.
"Many times, as designers, we are given the shell of a building, and we must work within those confines," Kramer said. "With this project, we were given the opportunity to push our ideas and our design beyond the typical structure. As we were designing this project, we wanted to create not only an environment that would be welcoming for people to come and create art but also involve an entire community in the project."
The Design and Build competition challenged university students across the country to create a makerspace influenced by tactical urbanism. Makerspaces are those places that encourage creation and ideation. Tactical urbanism offers an opportunity to make a small area of the built environment more enjoyable. Further, teams were required to merge these concepts into a pop-up space, sculpture, or installation of less than 500 square feet that would offer communities the opportunity to create something.
The UNA students used recyclable materials to create panels as part of their competition entry; each panel could be customized by the residents of the community, city, or state in which they're located and become urban art installations. The panels bring attention to recycling as well as serve as a means to liven up the area and bring multi-generational involvement to a single cause.
"We are very proud of the ideas that all of our students produced," said Kendra McLain, an assistant professor of Interior Architecture and Design. "This competition gave them the opportunity to consider how to invite community participation through a sustainable, creative experience. We have a wonderful group of talented, creative students. They appreciate
challenges that push their boundaries, and they always rise to the occasion. It's fun to celebrate accomplishments like this with them."
About The University of North Alabama
The University of North Alabama is an accredited, comprehensive regional state university offering undergraduate and graduate degree programs through the colleges of Arts and Sciences, Business, Education and Human Sciences, and the Anderson College of Nursing and Health Professions. Occupying a 130-acre campus in a residential section of Florence, Alabama, UNA is located within a four-city area that also includes Muscle Shoals, Sheffield, and Tuscumbia. UNA Athletics, a renowned collegiate athletics program with seven (7) Division II National Championships, is now a proud member of the NCAA Division I's ASUN Big South Conference. The University of North Alabama is an equal opportunity institution and does not discriminate in the admission policy on the basis of race, color, sex, religion, disability, age, or national origin. For more: www.una.edu and www.una.edu/unaworks/
The School of the Arts at The University of North Alabama
The University of North Alabama School of the Arts, or SOTA, within the College of Arts and Sciences, offers degree concentrations from the departments of Music, Visual Arts and Design, Cinematic Arts Program, and the Theatre Program. SOTA provides a valuable arts education to students to reach their personal goals. The school encourages a diverse, collaborative environment fostering inclusion and is committed to promoting a greater artistic community.
About the Museum of Outdoor Arts
Founded in 1981, MOA (Museum of Outdoor Arts) is a nonprofit organization dedicated to making the visual and performing arts accessible to everyone by implementing its mission of "Making Art a Part of Everyday Life." MOA owns and operates Fiddler's Green Amphitheatre in collaboration with its tenant AEG Presents and features more than 150 pieces in its outdoor collection. Additionally, MOA is home to art studios and indoor galleries hosting several exhibitions per year, an artist-in-residence program, and its signature education program, Design and Build, an annual opportunity for young artists on collaborative art projects. For more information on MOA, visit www.moaonline.org and follow the organization on Facebook, Twitter, or Instagram.