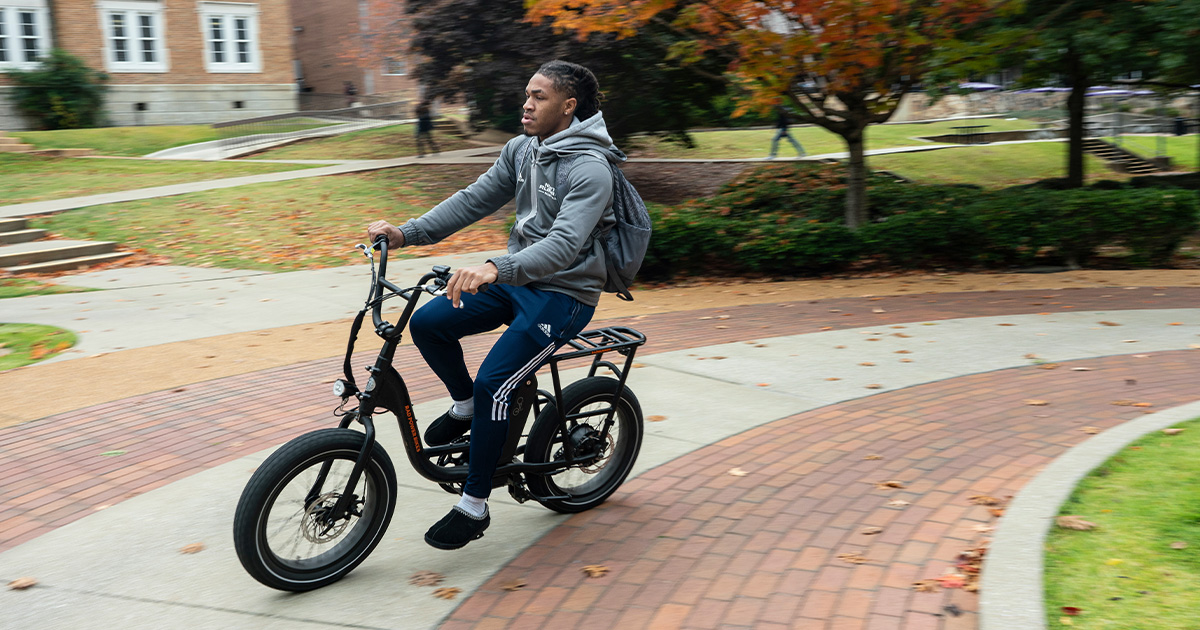 Students Take to Anderson (Electric) Bike Program
Nov. 22, 2022
Caroline Conkle , at cconkle@una.edu
The Anderson Bike Program launched this fall at the University of North Alabama as a new transportation initiative designed to provide an additional means of getting to and from campus. 
The first 25 electric bikes were provided to the University by The Joel R. Anderson Family Foundation. In addition to the electric bikes, the Foundation also provided individual helmets and four bike racks to ensure safety for the rider as well as the e-bike. 
"We believe that people should have options about how they get around," he said. "The important thing for us is the way people move throughout the day and the type of transportation they use that affects their day-to-day." 
How the bikes came to be at UNA began a year ago, in Fall 2021, when Anderson reached out to Glenda Richey, Director of Student Recreation, about distributing the bikes to campus. She said she was eager and ready to volunteer to make this happen. 
"I was just like 'Please let us do it; let me coordinate this,' " Richey said. "I can do this!"
During the course of the next several months, Richey worked out the distribution plan. Each applicant is asked where they live and if they have a current transportation method. Applicants who live several blocks away from campus are first on the list. 
By Spring 2022, Richey had selected the first 25 recipients in the Anderson Bike Program. Today, there is a waiting list for others. At the conclusion of the semester, Richey said the bikes will be returned in order to be redistributed to new owners in upcoming semesters, including during the summer. 
The electronic bikes have also been given a spin among academicians. 
Graduate students within the Department of Kinesiology were able to use the bikes to give metabolic tests before and after to students who rode them. 
"They tested their cholesterol, blood pressure, and body fat," Richey said. "(The bikes) give research opportunities for all of those who are graduate assistants in Kinesiology."
Because of the success of the program as a new means of transportation for students as well as for students in the classroom, the Foundation will provide an additional 25 bikes, helmets, and two additional bike racks to campus in Spring 2023, bringing the total number of electric bikes on campus to 50. 
Richey said this provides an additional benefit – additional parking spaces.
"Just the benefit of having a bike in general means you don't have to worry about a parking space," she said. "There are bike racks all over campus." 
In addition to the bikes, a graduate student will be funded who will help operate the program as well as perform their own research, according to Richey.
"Our hope is that this becomes a permanent offering," she said. "We think the e-bikes should be an option to check-out to get to and from campus and around town." 
Joel R. Anderson II, who is a Foundation director as well as a member of UNA's Board of Trustees, is himself an avid e-bike user, often taking his from meeting to meeting in downtown Florence. 
"E-bikes are fun and easy to ride," he said. "All of those were strong reasons to create the program. And when I got mine, I didn't think it changed much, but, really, it changed everything. It almost has a magical feel to it."
About The University of North Alabama
The University of North Alabama is an accredited, comprehensive regional state university offering credential, certificate, baccalaureate, master's, and doctoral programs in the colleges of Arts, Sciences, and Engineering; Business and Technology; Education and Human Sciences; and the Anderson College of Nursing and Health Professions. The first-choice University for more than 10,000 on-campus and online students, UNA is on a bucolic campus in Florence, Alabama, part of the historic and vibrant Shoals region. Lions Athletics, a renowned collegiate athletics program with seven (7) Division II National Championships, is now a proud member of the NCAA Division I's ASUN Conference. The University of North Alabama is an equal opportunity institution and does not discriminate in the admission policy on the basis of race, color, sex, religion, disability, age, or national origin. For more: www.una.edu and www.una.edu/unaworks/