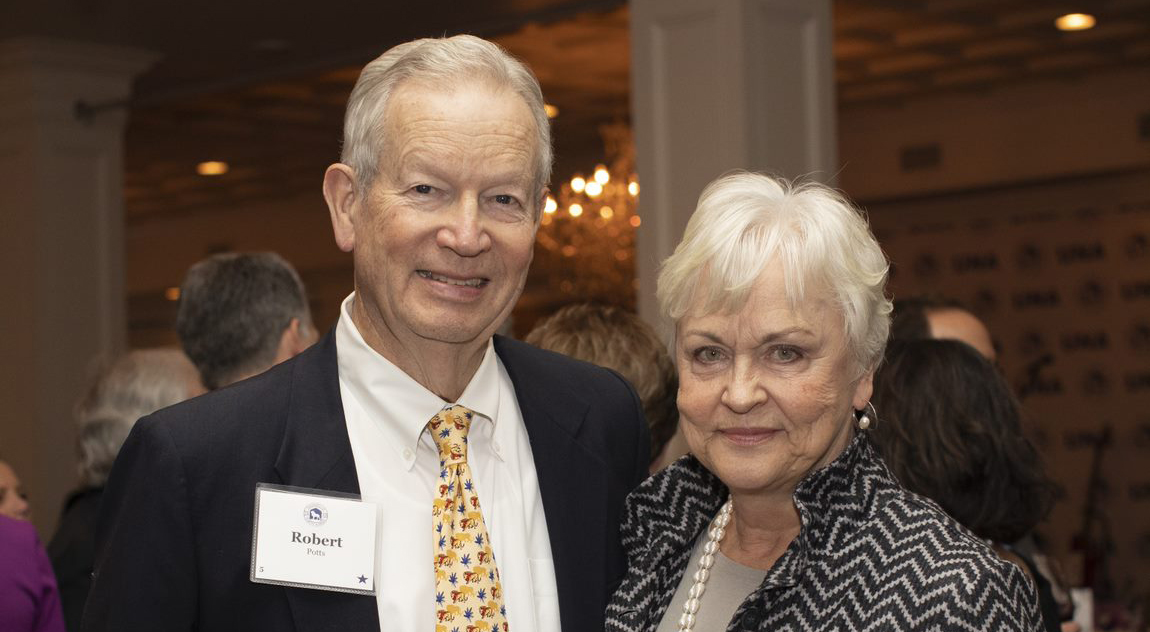 Former UNA President Dr. Robert L. Potts Dies at 78
Oct. 28, 2022
Michelle R. Eubanks , UNA, at meubanks@una.edu, 256.765.4392
Dr. Robert Leslie Potts, former president of the University of North Alabama, died Friday, Oct. 28, 2022. He was 78.
"Robert's life was a celebration of the causes he held dear – from his leadership at the University of North Alabama to his role as long-time advocate for diversity in our state and our region," said UNA President Dr. Ken Kitts. "Dena and I join the campus and community in mourning the loss of our colleague and friend. He leaves a strong legacy at UNA as a dedicated and tireless supporter of students and their success. Robert will be greatly missed."
Potts, who was a Florence native and a Harvard-educated attorney, served as the University of North Alabama President from 1990-2004. During his tenure, a number of changes took place at UNA, including the expansion of the UNA brand at the national level; the campus beautification that included the construction of Harrison Plaza and Fountain and the George H. Carroll Lion Habitat; and the creation of the UNA Foundation, for which there is a leadership scholarship named in his honor. He also spearheaded the creation of the Presidential Mentor's Academy.
Students were among his priorities while president. In addition to the creation of the Presidential Mentor's Academy, Potts opened the Child Development Center at the Kilby Laboratory School, and the Raburn Wing of the then-College of Business, which is now known as the College of Business and Technology. He traveled to Washington, D.C., with the UNA football team to visit the White House as part of the team's historic three-peat consecutive NCAA Division II championship wins, and he helped pave the way for automated and online registration for students.
"President Potts was a students' president," said Dr. Kimberly Greenway, former Vice President for Student Affairs who served as the Staff Council Chairperson during Potts' tenure as president. "He articulated often his philosophy that all UNA employees were here to serve and interact with students, whether faculty, administrator, grounds personnel, or other. He genuinely cared about the student experience at UNA and valued the input of students, faculty, and staff. I will always appreciate what he contributed to the University and to my growth as a professional."
After practicing law for a period, Potts began his full-time career in higher education in 1984 when he accepted the role of General Counsel at the University of Alabama System. In 2004, Potts left UNA to become Chancellor of the North Dakota University System, where he served for almost three years. Thereafter, he was appointed as the first Chancellor of the Jonesboro Campus of Arkansas State University in Jonesboro, Ark. He concluded his career in higher education in 2011 as the Interim President of the Arkansas State University System. Potts remained a vital part of the UNA campus in his retirement, serving as a member of the UNA President's Cabinet, which is an organization he created while serving as president. Most recently, in 2020, he received the Lifetime Achievement Award from the UNA National Alumni Association.
For Dr. Eric Kirkman, Director of Kilby Laboratory School and an Assistant Professor of Education in the College of Education and Human Sciences, the loss is not unlike losing a parent.
"President Potts was such a foreign entity to me when I first met him. After all, I was just a little freshman from Florida coming to this great University, and he was the President," Kirkman said. "What I thought was an unapproachable scenario became a life-changing friendship between two people with two totally different worlds. President Potts instilled confidence in me that convinced me that I belonged at any table or in any room as long as I prepared myself for it."
Kirkman recalled that Potts and his wife, Irene, attended his wedding to Dr. Tera Kirkman, who is also a UNA alumna and the Interim Dean of the Anderson College of Nursing and Health Professions.
"One of the greatest honors for me to this day is looking down the aisle at my beautiful bride of soon-to-be 23 years and seeing President Potts sitting among the guests along with this lovely wife and his big, proud smile," Kirkman said. "It was like a father looking proudly at his son. President Potts has my honor and respect to this day, for I know he was instrumental in making my college experience one to be proud of."
About The University of North Alabama
The University of North Alabama is an accredited, comprehensive regional state university offering credential, certificate, baccalaureate, master's, and doctoral programs in the colleges of Arts, Sciences, and Engineering; Business and Technology; Education and Human Sciences; and the Anderson College of Nursing and Health Professions. The first-choice University for more than 10,000 on-campus and online students, UNA is on a bucolic campus in Florence, Alabama, part of the historic and vibrant Shoals region. Lions Athletics, a renowned collegiate athletics program with seven (7) Division II National Championships, is now a proud member of the NCAA Division I's ASUN Conference. The University of North Alabama is an equal opportunity institution and does not discriminate in the admission policy on the basis of race, color, sex, religion, disability, age, or national origin. For more: www.una.edu and www.una.edu/unaworks/