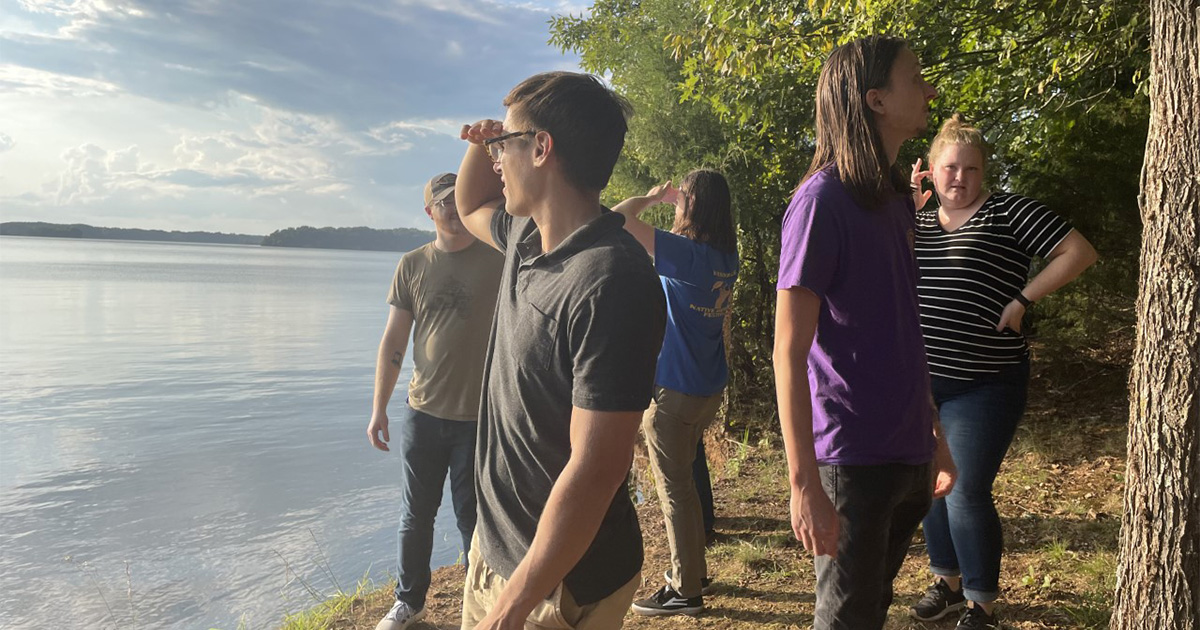 Students, Communities Benefit from Collaboration
Mar. 15, 2022
Michelle R. Eubanks , UNA, at meubanks@una.edu, 256.765.4392
FLORENCE, AL – Recently, 12 University of North Alabama students collaborated with communities in Lawrence and Limestone counties in order to create economic development initiatives; the work is the result of an Appalachian Teaching Grant awarded to the Office of Regional Engagement, which is home to the Muscle Shoals National Heritage Area (MSNHA).
Undergraduate and graduate students from multiple academic disciplines worked in teams of three in order to develop different regional recreation initiatives for Courtland and Mooresville.
"The students were able to experience the application of methods unique to UNA, including innovation and collaborative leadership," said Dr. J. Doug Barrett, Director of the Institute for Innovation and Economic Development. "This application enabled them to develop original projects targeted toward community development in the region."
After exploring Limestone and Lawrence counties and meeting with community members, students competed in an idea competition, during which they pitched their recreational economic development plans to residents from Courtland and Mooresville, commissioners from Lawrence and Limestone counties, UNA faculty and leadership, and representatives from the Singing River Trail and Tennessee RiverLine. It was from those in attendance who voted in order to select the winning idea. The students from all groups then shared written reports with the leadership of Courtland and Mooresville.
"The Appalachian Trail Project class provided us the chance to collaborate with other students from different disciplines and develop real-world projects unlike I've previously experienced in a course," said Terrance Johnson, a student on the winning team. "We were immersed in local communities and culture, worked to identify potential growth areas for these communities through focus on recreation along the Tennessee River, the developing Singing River Trail, and Tennessee RiverLine, and were given a platform to pitch our ideas."
In addition to Johnson, the winning team also included Clayton Davis and Adrian Flores. Their focus was on the Limestone County town of Mooresville. They sought to engage Mooresville residents and tourists by connecting them in recreational opportunities along the Tennessee River. The team proposed creating a small paddle company, Limestone County Ecotours, that would lead tours around Limestone Bay to share the River's cultural and natural history.
"Recreation is a fast-growing sector of the economy and projects that incorporate the unique stories and resources of communities can have a tremendous impact," said Dr. Carrie Crawford, Director of the Muscle Shoals National Heritage Area. "They face different challenges, which helped to show students that when working on economic development projects you must take into account the individual community. There is no one-size-fits-all solution."
Other student teams created different ideas depending on which city and county they were placed. Students Isaac Bowling, Roberto Komba, and Dixie Norwood suggested the creation of a restaurant and kayak outfitter that would be near a kayak launch point close to Big Nance Creek in Courtland. Another group, including Hunter Carlton, Jesse Pendley, and Lindsey Pike, proposed a mercantile store café focused on catering to recreational users that would help generate new growth in downtown Courtland. The last group, which included Cooper Johnson, Daniel Rhodes, and Cris Watson, sought to establish an annual community festival with music, arts and crafts, and water-specific outdoor experiences in Mooresville to help fund the development and ongoing maintenance of a new kayak access point.
"Seeing first-hand the need for a project to help with tourism in two different areas of the MSNHA was very eye-opening," said Norwood. "Being able to work on a recreational project for Courtland was a very important experience to help further my career in public history."
UNA was one of 17 colleges and universities from across the Appalachian Regional Commission area that was chosen to participate in the grant program. As a result of the success of the project, Crawford said the Office of Regional Engagement would reapply for the grant and would be working on an additional application process for students who are interested in joining the class.
About the Muscle Shoals National Heritage Area
The mission of the Muscle Shoals National Heritage Area is to promote cultural tourism by education, preservation, and conservation of the heritage and culture within the six northwest Alabama counties – Colbert, Franklin, Lauderdale, Lawrence, Limestone, and Morgan – of the Tennessee River basin. We inform, educate, develop, and interpret visitor-ready sites, create living history experiences, chronicle evolution of the area's landscape, and extend these opportunities to the largest audience possible.
About the Appalachian Regional Commission
The Appalachian Regional Commission, or ARC, is an economic development agency of the federal government and 13 state governments focusing on 423 counties across the Appalachian Region. ARC's mission is to innovate, partner, and invest to build community capacity and strengthen economic growth in Appalachia to help the region achieve socioeconomic parity with the nation.