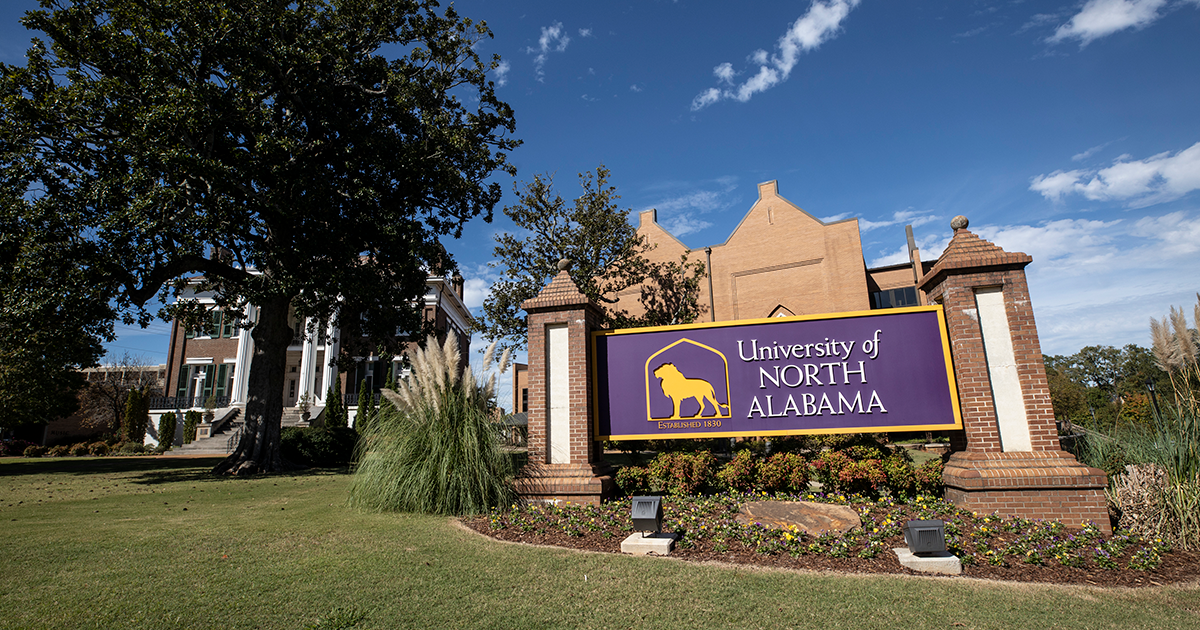 Una Junior Christian Bayens Receives $2,000 Competitive Leadership Scholarship From Physics Society
May. 31, 2013
Michelle Eubanks, UNA, at media@una.edu, 256.765.4392 or 256.606.2033
By Elise Cofield,Student Writer
FLORENCE, Ala. - Christian Bayens, a native of Auburn and rising junior at the University of North Alabama, was recently selected to receive a $2,000 Leadership Scholarship from the national Society of Physics Students (SPS).
Bayens was one of 10 students from across the country to receive the $2,000 award, which is intended for physics majors in the latter stages of their undergraduate careers. To determine winners for the selective scholarship, the SPS committee considers three criteria in applicants: scholarship performance, scholastic development in physics and participation in SPS programs.
Bayens' involvement with the UNA chapter of SPS traces back to last September, the beginning of his sophomore year. Having recently switched his major to professional physics, Bayens said he went to listen in on one of the first meetings of the semester. As the meeting progressed, the subject of attending the 2012 PhysCon conference in Orlando was brought up. Bayens chimed in when the group dismissed the idea because of funding issues.
"They just sort of said, 'It would be nice to go, but we can't,' " he said, "and that's when I told them I knew the process of getting funding because I was on the (Student Government Association) Senate."
At that meeting, Bayens was selected to serve as SPS treasurer. He immediately took an active role in the society, raising the $3,000 required to take four students to the conference that November. Student Allocations supplied some of that amount, but Bayens had to raise the rest independently. As a result of attending the conference, SPS member Mary McDaniel won first place for her astronomy poster project.
Bayens was recommended for the scholarship by Dr. Mel Blake, UNA's SPS chapter adviser since 2009.
"When I looked at the description for the scholarship, I told him, 'You need to apply for this, because they're talking about you,' " said Blake, an assistant professor of physics and astronomy in the UNA Department of Physics and Earth Science. "He basically transformed the entire club. We went from doing a few things here and there to being very active."
Blake said he and the student members of SPS are trying to broaden the organization's scope to students, and to the community at large, by keeping the group open to new members interested in the field of physics.
In addition to his role as SPS treasurer, Bayens is also a member of the UNA Honors Program, Alpha Tau Omega fraternity and SGA. He is also involved in undergraduate research. His most recent project was exploring the subject of galactic cannibalism. Bayens turned this research into a poster that won first place prize when he presented his research at the physics and mathematics poster competition at the 2013 Alabama Academy of Sciences meeting in Birmingham.
Bayens, along with the nine other recipients of the Leadership Scholarship, are featured on the SPS website and will likely be featured elsewhere in the coming months.
"I think this is definite recognition for a lot of hard work, both in SPS and academically," Bayens said. "A lot of the time, when you're somebody who does a lot on campus, it's a lot of thankless work, so it's nice to get recognition for some of it."
Bayens' future plans include attending graduate school to study applied physics, and ultimately either teaching at the university level or finding employment with a private company.
For more information on SPS, or on the leadership scholarship, visit:
http://www.spsnational.org/programs/scholarships/2013.htm.
Two photos of Christian Bayens are available on our UNA image gallery at:
(1) http://www.unalionsden.com/archive/photo.php?id=7038
(2) http://www.unalionsden.com/archive/photo.php?id=7037