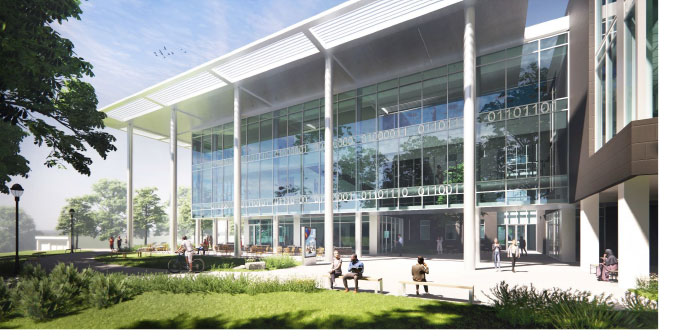 State, Local Collaborations Pave Way For Expansion of Computer Science at UNA
Nov. 18, 2021
Michelle Eubanks, UNA, at media@una.edu, 256.765.4392 or 256.606.2033
Michelle Rupe Eubanks, meubanks@una.edu, 256-765-4392 or 256-606-2033
FLORENCE, AL - In direct collaboration with industry partners, including the Shoals Economic Development Authority and other state and local governmental entities, the University of North Alabama has committed to doubling the size of its Computer Science suite of programs during the next three to five years.
"Partnerships of this magnitude, particularly those with the City of Florence, further an already robust relationship," said Dr. Ken Kitts, UNA's President. "As a University, we are fulfilling the workforce needs of the City and the Shoals region, and both will benefit by having capable, professional, and well-qualified graduates who want to live and work in this thriving community. It really is a win-win."
Doubling the size of Computer Science programs, which include Computer Science, Information Technology, and Computer Information Systems, will double the number of students and graduates, producing a qualified, credentialed, and trained workforce to fulfill in-demand technology jobs locally, regionally, and across the State of Alabama.
Already, UNA has committed $25 million in scholarships over the next 10 years to recruit talented students to these majors. This fall, when UNA broke all previous enrollment records, the CSIS Department experienced a 110 percent increase in new Computer Science, Information Technology, and Computer Information Systems majors.
"Students and employers consistently demand expansion of UNA's workforce-focused degree programs that lead directly to high-paying jobs, best evidenced by this strategic investment in Computer Science," said Dr. Ross Alexander, Provost and Executive Vice President for Academic Affairs. "This programmatic expansion directly benefits our students, and it benefits our state and local economy. A vital component of this investment and partnership includes an approximately 40,000-square-foot, state-of-the-art facility to accommodate these additional students we anticipate."
The construction phase of the $22 million Computer Science and Mathematics Building project is fully funded, with $15 million allotted from the State of Alabama, $4 million from Shoals EDA, and $3 million from the City of Florence. Project completion is expected by summer or fall of 2023.
"The City of Florence and UNA must work hand-in-hand on projects that are as vital to our economy as this is," said Florence Mayor Andy Betterton. "We depend on UNA's graduates to provide for our city's workforce development needs, and this keeps us ahead of the curve when businesses and industries look to establish their operations here."
The additional graduates from the Computer Science suite of programs are of particular interest to Kevin Jackson, Shoals EDA's Executive Director.
"We are excited to partner with the University of North Alabama to drastically grow our pipeline of tech workers in Northwest Alabama," he said. "The unprecedented growth in the Computer Science program and the quality of their graduates will help put our community in a position to meet 21st century workforce demands."
In addition to the new facility to house the CSIS and Mathematics departments, the project will also include significant exterior renovations to Founders' Hill and the Memorial Amphitheatre. Demolition is set to begin later this year.